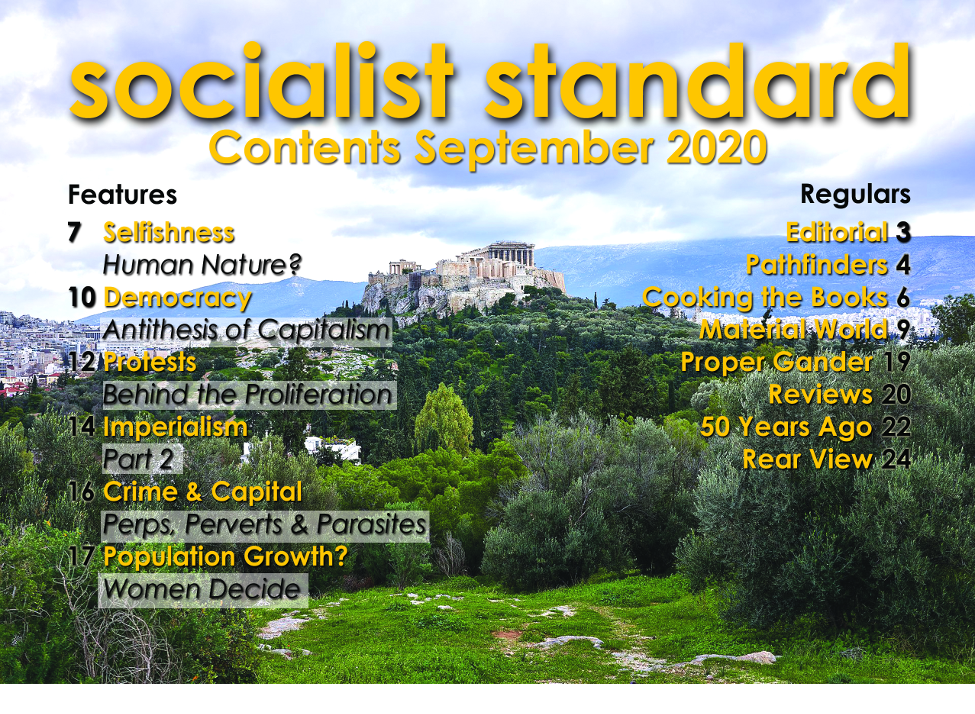 Contents
Socialist Standard September 2020 PDF
 

Regulars

The Socialist Standard is a monthly socialist newspaper published without interruption since 1904 by the Socialist Party of Great Britain.

Socialist Standard Archives

The newspaper is written in a simple, direct style and focuses mainly on socialist advocacy and Marxian analysis of current events, particularly those affecting the United Kingdom from 1904 until the present..
​
Features

People often associate sweatshop conditions in the clothing industry with Bangladesh or Cambodia but one consequence of the COVID-19 pandemic has been to reveal garment factories in Leicester which can very easily be described as sweatshops. .. Read

The UK news media always has a bun fight over the annual August A-level results, but this year's turned into a bigger furore than usual. With schools closed due to Covid the exams had to be replaced by estimated grades based on the students' but also the schools' track records, in order to replicate the year-on-year average. Objections rapidly mounted that this 'locked in' existing biases which excluded talented outliers and underprivileged schools that had previously been making fast progress..Read
A common objection to the realisation of socialism is that it's a nice idea, but contrary to human nature. This presupposes that there is a human quality fixed for all time acting as a prophylactic to prevent people collectively achieving a more benign society. Motivated by self-interest, individuals will act against the common interest.

There is more than a little anecdotal evidence for this being the case. Many a survey has declared that voters are prepared to pay higher taxes to better fund the NHS. Come election day, secluded in the polling booth, many then vote for the party offering tax cuts…read

Capitalism's relationship to democracy is similar to a conversation in a film set in apartheid South Africa, where a lawyer addressing a client described the relationship between the law and justice in general as being similar to distant cousins who were not on speaking terms. Capitalism, as we know, is a world-wide system. However, the type of political system that underpins it differs in various parts of the world. In many places it operates on the basis of what are clearly totalitarian regimes, although even here terms such as 'Peoples' Assembly', as in China, try to create the illusion that it contains democratic features...Read
Just what is wrong with the world today, so wrong that there are huge numbers of protests in numerous countries with millions of people crying out for change? Some of these protests get much publicity, others in different parts of the world are rarely heard of except locally. A brief search on the internet for protests will supply reams of information from countries many people from the West will not be able to point to on a map, let alone be aware of the protest and its purpose – but they are there in great numbers and appear to be growing annually...Read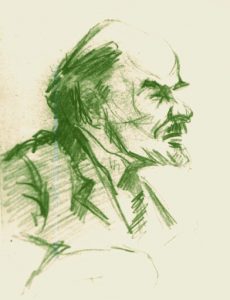 Lenin's theory of the 'weakest link' led him to believe a 'socialist proletarian revolution' would most likely occur first in parts of the world still transitioning towards full capitalism, not the advanced capitalist countries themselves. Partly, this arose from his belief that a stratum of workers in the latter – the 'labour aristocracy' – had been 'bribed' into supporting capitalism out of imperialist 'super-profits' produced by a super-exploited colonial workforce. ..Read
At the beginning of July, it was loudly trumpeted in the media that hundreds of people had been arrested in operations across Europe. It was a directed strike at organised crime groups, enabled by French police compromising the communication servers of a company called Enchrochat, which offered secure encrypted communications. Believing themselves safe from police surveillance the criminal entrepreneurs using its services were caught planning drugs deals, kidnappings and murders. ..Read

For centuries, women have been denied the opportunities for personal advancement in the name of religion and tradition. Religious and cultural institutions where patriarchal attitudes were legitimised have had a deep effect on the role and status of women. Yet it is now women who are the key drivers in defusing what was once popularly called the 'population bomb'. Everything has changed so much that choosing to have no children, or just give birth to one child, is for women just as convenient as choosing to bear two or three...Read
| | | |
| --- | --- | --- |
| | | |
| | Click on images for individual reviews. | |
| | Click on images for individual reviews. | |
| | | |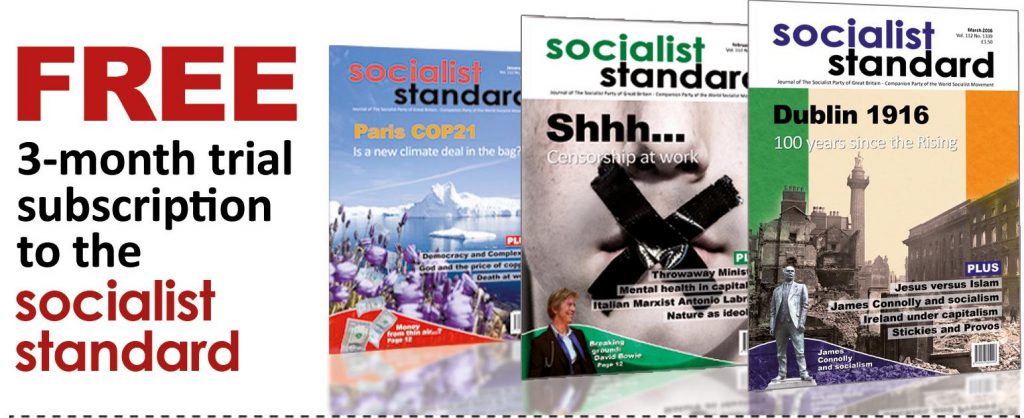 ---
Introducing the Socialist Party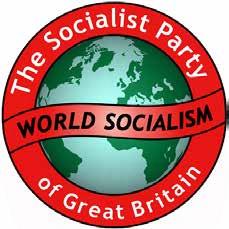 ---
The Socialist Party advocates a society where production is freed from the artificial constraints of profit and organised for the benefit of all on the basis of material abundance. It does not have policies to ameliorate aspects of the existing social system. It is opposed to all war.
The Socialist Standard is the combative monthly journal of the Socialist Party, published without interruption since 1904. In the 1930s the Socialist Standard explained why capitalism would not collapse of its own accord, in response to widespread claims to the contrary, and continues to hold this view in face of the notion's recent popularity. Beveridge's welfare measures of the 1940s were viewed as a reorganisation of poverty and a necessary 'expense' of production, and Keynesian policies designed to overcome slumps an illusion. Today, the journal exposes as false the view that banks create money out of thin air, and explains why actions to prevent the depredation of the natural world can have limited effect and run counter to the nature of capitalism itself.
Gradualist reformers like the Labour Party believed that capitalism could be transformed through a series of social measures, but have merely become routine managers of the system. The Bolsheviks had to be content with  developing Russian capitalism under a one-party dictatorship. Both failures have given socialism a quite different — and unattractive — meaning: state ownership and control. As the Socialist Standard pointed out before both courses were followed, the results would more properly be called state capitalism.
The Socialist Party and the World Socialist Movement affirm that capitalism is incapable of meaningful change in the interests of the majority; that the basis of exploitation is the wages/money system.
The Socialist Standard is proud to have kept alive the original idea of what socialism is — a classless, stateless, wageless, moneyless society or, defined positively, a democracy in which free and equal men and women co-operate to produce the things they need to live and enjoy life, to which they have free access in accordance with the principle 'from each according to their abilities, to each according to their needs.'
---