2020s
>>
2020
>>
no-1393-september-2020
Meetings
All meetings/talks/discussions are currently online on Discord (unless it is
stated that the meeting or talk is on Zoom).
Please contact the
spgb@worldsocialism.org for how to join.
---
Members of Central Branch are advised that there is an informal discussion group hosted fortnightly on a Sunday by Paul Edwards at 7.00pm (BST) in the Discord online server. The next date for your diary will be 13th September at 7.00pm (BST); and, then every second Sunday thereafter. Please, do consider joining in. This is a great opportunity for all.
Wednesday 2 September, 7.30pm BST
The FAQ Workshop
CONSPIRACY THEORIES
At least 50% of Americans believe in one or more conspiracies, from flat earth to moon hoax to an engineered coronavirus pandemic. Religions offer an uplifting experience, but conspiracy theories make believers more depressed, paranoid and fatalistic, all the more so in the fake-news environment of social media. What can we do to talk people out of this no-hope and do-nothing attitude?
Friday 4 September, 7.30 BST
FRIDAY NIGHT TALK
WHY NOT REFORMISM?
Keith Graham throws some light along a political blind alley.
Wednesday 9 September, 7.30pm BST
The FAQ Workshop
IS PROPAGANDA DIFFERENT FROM MARKETING?
Personal communication is a matter of personal preference, but propaganda is communication for a group objective. Marketing is communication for a group objective, using a professional approach with evidence-based rules about what's effective and what isn't. Many socialists dismiss marketing as dishonest by design and insist that personal preference is valid as we are not in the business of 'selling' the socialist case. But is that true? We are attempting to persuade, just as marketing attempts to persuade. Are we behaving like enthusiastic amateurs when we should be looking for tips from the Mad Men of marketing?
Friday 11 September, 7.30 BST
FRIDAY NIGHT TALK
ROADMAP TO SOCIALISM
Binay Sarkar of the WSP India, live from Kolkata
Sunday 13 September, 7.00 BST
CENTRAL BRANCH CHAT
With CB Secretary Paul Edwards
Wednesday 16 September, 7.30pm BST
The FAQ Workshop
SOCIALISM AND MORALITY
Socialists generally think morality is a bad way to make a good argument, and some years ago after a big debate we decided that socialism was not, even partly, an ethical case. Despite this, it's arguably impossible to be a socialist without having a well-developed sense of moral justice. Are we doing the right thing by constantly avoiding the moral debate, or do we risk doing ourselves a disservice by making socialism seem soulless and mechanistic? How could we achieve the best of both worlds?
Friday 18 September, 7.30 BST
FRIDAY NIGHT TALK
TBA
TBA
Wednesday 23 September, 7.30pm BST
The FAQ Workshop
THE POLITICS OF ENVY
Some people call socialism the politics of envy, often when they themselves have got nothing that anyone else would envy. Is this fair comment, or egregious insult? We could repudiate the idea and point to the global poor, which makes us look moralistic. Or we could agree that they're right and complain that workers aren't envious enough, which makes us look like wannabes and sore losers. Is there a good way past this argument?
Friday 25 September, 7.30 BST
FRIDAY NIGHT TALK
TBA
TBA
Sunday 27 September, 7.00 BST
CENTRAL BRANCH CHAT
With CB Secretary Paul Edwards
Wednesday 30 September, 7.30pm BST
The FAQ Workshop
10 DESERT-ISLAND BOOKS FOR WOULD-BE SOCIALISTS
We all remember books we liked, but which ten would we recommend as absolute must-reads for someone exploring socialist ideas, on a desert island or elsewhere?
---
Declaration of Principles
---
This declaration is the basis of our organisation and, because it is also an important historical document dating from the formation of the party in 1904, its original language has been retained. A more detailed version including explanations of what the Object and each Principle mean to us is on the website here.

---
Object
The establishment of a system of society based upon the common ownership and democratic control of the means and instruments for producing and distributing wealth by and in the interest of the whole community.
Declaration of Principles
The Socialist Party of Great Britain holds:
1: That society as at present constituted is based upon the ownership of the means of living (i.e., land, factories, railways, etc.) by the capitalist or master class, and the consequent enslavement of the working class, by whose labour alone wealth is produced.
2: That in society, therefore, there is an antagonism of interests, manifesting itself as a class struggle between those who possess but do not produce and those who produce but do not possess.
3: That this antagonism can be abolished only by the emancipation of the working class from the domination of the master class, by the conversion into the common property of society of the means of production and distribution, and their democratic control by the whole people.
4: That as in the order of social evolution the working class is the last class to achieve its freedom, the emancipation of the working class will involve the emancipation of all mankind, without distinction of race or sex.
5: That this emancipation must be the work of the working class itself.
6: That as the machinery of government, including the armed forces of the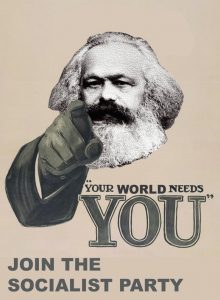 nation, exists only to conserve the monopoly by the capitalist class of the wealth taken from the workers, the working class must organize consciously and politically for the conquest of the powers of government, national and local, in order that this machinery, including these forces, may be converted from an instrument of oppression into the agent of emancipation and the overthrow of privilege, aristocratic and plutocratic.
7: That as all political parties are but the expression of class interests, and as the interest of the working class is diametrically opposed to the interests of all sections of the master class, the party seeking working class emancipation must be hostile to every other party.
8: The Socialist Party of Great Britain, therefore, enters the field of political action determined to wage war against all other political parties, whether alleged labour or avowedly capitalist, and calls upon the members of the working class of this country to muster under its banner to the end that a speedy termination may be wrought to the system which deprives them of the fruits of their labour, and that poverty may give place to comfort, privilege to equality, and slavery to freedom.
---
Socialist Standard September 2020
---