Proper Gander – getting over the horizon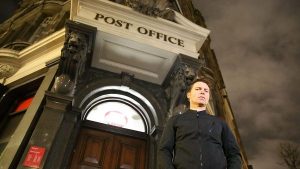 The story of the many wrongful convictions of Post Office staff for theft, false accounting and fraud is like a checklist of the ways in which capitalism creates and then exacerbates problems for people. Apart from how the shameful saga could only happen in a money-based society, it also illustrates how minority ownership of organisations, employment contracts, commercial interests and the law all maintain a system which protects the rich at the expense of the workers. While some of the staff have finally had their convictions overturned, this can't replace the years of worry, stigmatisation and financial ruin or time spent in prison.
For its recent documentary The Post Office Scandal (BBC One), Panorama uncovered new evidence about what led up to the prosecutions and interviewed Post Office staff, campaigners, lawyers and investigators caught up in what the programme's website calls 'the most widespread miscarriage of justice in British legal history'.
While the Post Office is a private company owned by the state, nearly all its branches are run as franchises or businesses by sub-postmasters/mistresses. There is a clause in their contracts which stipulates that any money missing from their branch's accounts is their responsibility. So, when their accounting IT system started telling them there should be more cash in the branch account, many terrified SPMs used their own money (often getting into debt) to fill the gaps, hoping the books would balance later. When discrepancies kept appearing, the accusations began.
Between 1999 and 2015 there were 706 convictions of Post Office staff with the common factor of the Horizon accounting system, used in every branch. The government contract to develop this system's software was won by IT company Fujitsu, whose bid came bottom in seven out of 11 categories of criteria for a decent system, and was also the cheapest. Suspicions that Horizon wasn't dependable began soon after it was installed, with complaints made by branch staff which didn't lead to any action. It took many years for concerns to gain momentum, hampered by various tactics of senior Post Office and Fujitsu staff, such as denials to those accused that there were similar cases elsewhere, suppressing details of how Horizon was operating and turning down requests for it to be reviewed. A Post Office report from 2010 unearthed by Panorama said that 'any perception that the Post Office doubts its own systems would mean that all criminal prosecutions would have to be stayed', meaning that senior management knew there was a problem, but they still carried on making prosecutions.
Organisations which bring private prosecutions to court tend to use external firms to gather and present evidence. Because of its origins as a 'public body', the Post Office retains internal investigators and lawyers to conduct the prosecution of its workers, combining the roles of victim, detective and prosecutor. This means that those involved have a particular vested interest in aiming for an outcome which benefits the organisation. An email between Post Office lawyers regarding the 2010 trial of sub-postmistress Rubbina Shaneen accessed by Panorama said that 'it is absolutely vital that we win, as a failure could bring down the whole Royal Mail system'. When shown a copy of this, Rubbina, who was sent to prison after being found guilty of false accounting, said 'Just to save the Horizon computer they destroyed my reputation and my life'. The Post Office was happy to let people assume that there had been a wave of criminality among its staff rather than admit there were faults with its computer system.
Doubts about Horizon became more vocal with the publication of Computer Weekly magazine's exposé of the scandal, the formation of the Justice For Sub-Postmasters Alliance campaign group, questions from MPs, and forensic accountants from independent firm Second Sight being brought in to investigate.
Senior managers at the Post Office were keen for Second Sight's work to be stalled. Gina Griffiths, the widow of Martin, a postmaster who ended his life following accusations against him, agreed to a financial settlement from the Post Office with a requirement that she withdraw from Second Sight's investigation. To limit the damage to itself, the Post Office also formed sub-committee Project Sparrow, which included an unnamed government representative. One of the MPs involved in challenging the Post Office, Lord Arbuthnot, admits that the government was probably complicit in the decision to sack Second Sight. Their investigations got as far as hearings, where the Post Office's then-CEO Paula Vennells squirmed when challenged about why it wasn't cooperating with requests for information. In 2015, the Post Office ended Second Sight's investigation and ordered its work to be destroyed. One of the documents the Post Office wanted to keep to itself concerned legal advice warning that convictions may be unsound. New prosecutions ceased, but for hundreds of Post Office staff, the damage had been done.
In 2019, the Justice For Sub-Postmasters Alliance challenged the Post Office in the High Court. Two years later, the first convictions were quashed, with the Court of Appeal saying 'that the failures of investigation and disclosure were so egregious as to make the prosecution of any of the Horizon cases an affront to the conscience of the court' (tinyurl.com/4s3uynvv). The conclusion to be drawn is that the Post Office knew that Horizon was unreliable, and in trying to cover this up it abused the criminal justice system to defend its brand. It's issued a grovelling apology and compensation payments of up to £100,000 to the 73 people whose convictions have been overturned so far. Not mentioned in Panorama's documentary is how the Court of Appeal has only quashed convictions when the Post Office hasn't objected to this and has dismissed the cases which the Post Office has opposed (tinyurl.com/2p8ehe3s). For journalist Nick Wallis, this suggests that the Appeal Court hasn't grasped the scale of Horizon's unreliability, which the Post Office has downplayed all along. The Post Office's unusual status of having internal prosecutors also contributed to the extent of the scandal, but there's nothing unusual about its eagerness to protect itself as a money-maker over supporting its workers. This won't change even if senior staff are held to account or the Post Office is eventually reformed as a result of the public enquiry which is now underway.
MIKE FOSTER
---
Next article: Book reviews: Farage / Racism and hostility / Unlearning Marx ⮞