2010s
>>
2011
>>
no-1286-october-2011
Greasy Pole: Order… Order…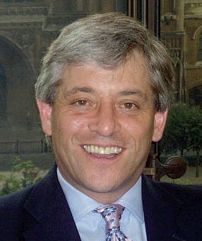 When it comes to the Speaker of the House of Commons, whose style do you prefer? Stagnantly traditional Douglas Clifton Brown (1943-1951) and Sir Harry Hylton-Foster (1959-1965)? Knee breeches, silk stockings and silver-buckled shoes under a QC's black silk gown with a train, mourning rosette and full-bottomed wig? Or, determinedly iconoclastic, the first woman speaker Betty Boothroyd (1992-2000) and the first Roman Catholic Michael Martin (2000-2009) who flagrantly defied precedent and dressed to assert a more approachable style? And now the holder of that intimidatingly ancient office – the sparky, abrasive, overbearing John Bercow, the first Jewish Speaker– all done up in an estate agent's lounge suit with a High Street shirt and tie and a teacher's classroom gown? Bercow long nursed an ambition to be Speaker and now he has let us know, in no uncertain terms, that he has arrived in the Chair.
His impatient triumphalism has been seen by some armchair psychologists as a reaction, predictable in a taxi driver's son from a London suburb, to being an MP in a party burbling with public school toffs. Supporting this analysis is the fact his entire political career has been mottled with an expressed inability to settle into accepting any notion that he is less than hugely superior to those who confront him. He got a First Class Degree at the University of Essex, where his professor recalls him as "…pretty stroppy…an outstanding student". But in spite of these talents he was able to ignore his family background as Jewish immigrants from Romania to the extent that he joined the Monday Club, becoming secretary of its Immigration and Repatriation Committee and then, when standing for the Monday Club Executive Committee, demanding a scheme of "assisted repatriation" of immigrants (rather like the British National Party today). However his ingrained tendency to fall out with any organisation of which he was a member was working and when he was 20 he left the Club. He now says he is ashamed of ever having been a member, which was "…a crazy thing for a young Jewish man to do".
Tebbit
After graduating he was elected as chairman of the National Federation of Conservative Students (FCS) until it was disbanded in 1987 by the Party Chairman Norman Tebbit who viewed it as "too right wing". We may well wonder how an acknowledged right wing bloodhound like Tebbit could be uneasy about any such organisation. In any case Bercow then found his political prospects revived when Tebbit appointed him Vice Chairman of the Conservative Collegiate Forum – the successor of the FCS. After a spell as a councillor for the London Borough of Lambeth and applying for the candidature of several Tory constituencies Bercow was selected to fight the ultra-safe seat of Buckingham, which he has represented since the 1997 election. As an opposition MP he was appointed as party spokesman on a number of issues which, until he more or less exhausted his options, gave him enough opportunities to display that his university professor had not misjudged his character.
In 2002 he resigned from the Front Bench after voting in defiance of a Three Line Whip on the Labour government's Adoption and Children Act, then openly estimated that his furious boss – Ian Duncan Smith – was as likely to guide the Tories to a win at the next election as "…meeting an Eskimo in the desert". Maintaining the momentum, he clashed with his next minister Michael Howard over taxes, immigration and Iraq. Any tolerance on Howard's part was exhausted when Bercow confessed to agreeing with Ann Widdecombe's notoriously adhesive suggestion that there was "…something of the night" about Howard and his leadership style. After Howard sacked him it seemed unlikely he would again be offered a place on a Tory Front Bench. The Speakership seemed an acceptable alternative but it needed quite a bit of manipulation to place himself in position to win it; to begin with he had made himself unpopular in the Commons with his persistent sneering at other Members while correcting their mistakes in grammar and syntax. For another he had ingratiated himself with the Labour Party by producing some advisory work for them. In the final round of voting for the Speaker in June 2009 Bercow defeated Sir George Young, a lofty Old Etonian personifying landed privilege, the extreme opposite of the comprehensive boy from the suburbs of North London, by 322 votes to 271. Estimates of how many Tories voted for him were at their highest about half a dozen.
Hostilities
This was an accurate forecast of what to expect from Bercow's speakership, with so many Tory MPs restless at his apparent favouring of Labour backbenchers. Contributing to this, in November 2010 David Cameron exercised his propensity for cheap jokes with a discriminatory effort about Bercow's diminutive stature. On his part, Bercow has made the Tory leader a special target including telling him, in proper parliamentary verbiage, to shut up – twice during one recent session of Prime Minister's Questions leaving Cameron lost for words. In June last year a Tory backbencher called him a "stupid sanctimonious dwarf"; last July Bercow suggested that a Minister and a backbencher should "leave" the chamber: "…we can manage without you" and in January the Deputy Chairman of the 1922 Committee reminded Bercow that he is "…not fucking royalty". These hostilities are likely to continue as Honourable Members flaunt their particular jealousies and frustrations.
Even before the first vote was cast, behaviour on both sides of the contest for the Bercow speakership did not inspire any confidence in the judgement or the motivation of those Representatives of the People at Westminster. It has given us no reason to believe that our interests – how we live, what we live on, who we live with, what the future holds for us – are safe in their hands, in their decisions on the green benches, in their gossip on the terrace and the tea-room. In the interests of organising a different, humane manner of running our affairs we must draw the conclusion from this episode, as from countless others, that we should have confidence in only ourselves.
IVAN