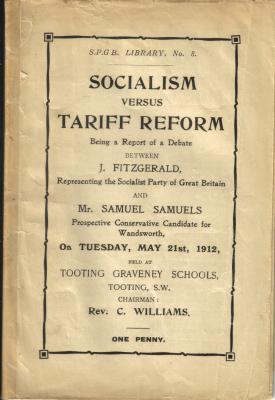 Socalism versus Tariff Reform.
Being a Report of a debate between J. FITZGERALD, Representing the Socialist Party of Great , Britain, and Mr SAMUEL SAMUELS, Prospective Conservative Candidate for Wandsworth, on Tuesday, May 21st, 1912, held at Tooting Graveney Schools, Tooting, S.W.
Chairman: Rev. C. Williams.
THE CHAIRMAN.

Ladies and Gentlemen,
I thought that this fine night line night would have tempted the ladies to keep outside so as to look at the rag-shops. I am glad, however, to see that a good many ladies are here, and their presence will, no doubt, help to make the meeting an interesting one.
Read more "Book Review: 'A World Without Money or Politicians'"