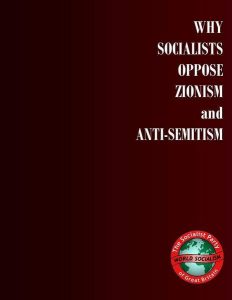 'Why Socialists Oppose Zionism and Anti-Semitism' 
Now available at £2.00 (+£1.50 P&P)
Cheques payable to 'The Socialist Party of Great Britain'.
Copies from the Socialist Party,
52 Clapham High Street,
London SW4 7UN
PDF Copy Zionism & Anti-Semitism pamphlet
There is nothing unique about the affinity between Zionism and anti-Semitism. Russian nationalism thrives on Russophobia (the denigration of Russians), Irish nationalism on anti-Irish prejudice, Islamism on hatred of Moslems, and so on. To escape the vicious circle, we must respond to ethnic persecution not by promoting "our own" brand of nationalist or religious politics, but by asserting our identity as human beings and citizens of the future world cooperative commonwealth.
Discover more about The Socialist Party of Great Britain