Material World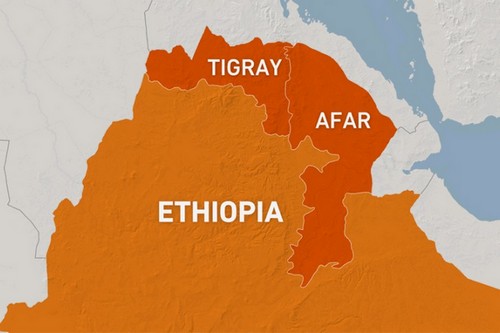 The Tigray Tragedy
'Ethiopia has 110 million people. If the tensions in Ethiopia would result in a widespread civil conflict that goes beyond Tigray, Syria will look like child's play by comparison' – Jeffrey Feltman, US special envoy for the Horn of Africa.
Seldom featuring as headlines in the media, since November 2020 there has been a civil war in Tigray, a mountainous region in north Ethiopia of more than 5 million people, a conflict that has killed thousands of people and displaced millions from their homes. The civil war is said to have spread in recent weeks to the Amhara and Afar regions and displaced hundreds of thousands of more people. Some observers hold memories of the Darfur genocide in Sudan.
Ethiopia's prime minister, Abiy Ahmed, embarked on a military campaign against the region's secessionist ruling party, the Tigray Liberation Peoples Front (TPLF), after accusing them of attacking a federal military base.
Ahmed was awarded the 2019 Nobel Peace Prize for his reconciliation policies with Eritrea yet when the elected Tigray leaders requested peace negotiations, he refused talks. Instead he invited Eritrean troops to enter Ethiopia to do battle with the breakaway TPLF and the Eritrean soldiers proceeded to commit widespread atrocities. They also took the opportunity to attack camps hosting Eritrean refugees who had fled the repression and persecution in their native country.
The federal government has declared 'It is now time for all able-bodied Ethiopians to join the defence forces, special forces and militias and show their patriotism.'
The United Nations Secretary-General Antonio Guterres said 'a humanitarian catastrophe is unfolding before our eyes', with up to 900,000 people facing famine conditions in what has been called the world's worst hunger crisis in a decade. Tens of thousands of children are on the brink of death.
Ramesh Rajasingham, the UN's acting humanitarian aid chief told the Security Council that over five million people require humanitarian help.
Attempts to deliver much-needed aid has been hindered by Ethiopia's government blockades, according to Grant Leaity, the UN's acting humanitarian coordinator for Ethiopia, sounding the alarm over a critical malnutrition situation unfolding in the embattled Tigray region. Humanitarian access in Tigray remains unpredictable with obstructive military checkpoints thwarting the efforts to deliver life-saving supplies. What assistance is arriving is reportedly being looted by the TPLF insurgents.
Francesco Rocca, president of the International Federation of Red Cross and Red Crescent told the media that 'The situation there is one of the most difficult I've ever seen. The people there are missing almost everything.' Rocca said only four hospitals out of 40 are operational in the region and are all facing major shortages in medical supplies. He decried the unacceptable looting that has ravaged most of the health facilities in the region.
UN aid chief Mark Lowcock said, 'There is no doubt that sexual violence is being used in this conflict as a weapon of war.' Dr Fasika Amdeselassie, the top public health official for the government-appointed interim administration in Tigray, told Reuters, 'Women are being kept in sexual slavery.'
War comes at an enormous human cost. Once again, we are witnessing death and destruction inflicted upon civilians based upon ethnic differences with the divisions spurred on by politicians' power-plays and propaganda ploys. As always in war, all sides accuse the other of lying and carrying out atrocities. And the likelihood is that all are equally guilty and none of the participants is innocent. Peace for people in Tigray will be elusive.
ALJO