2010s
>>
2011
>>
no-1278-february-2011
Action Replay: Cue for a Change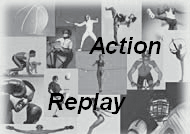 It's not uncommon for sports to change their rules in order to become more popular with the public, or at least with broadcasters and advertisers. Cricket is the most obvious example, with various limited-over versions and now Twenty20, with its limited duration, having become very well attended.
The latest sport to see a change in format is snooker, with the Power Snooker concept. There are fewer red balls and some innovations to scoring but, more importantly, there is a set time span of thirty minutes per match. This is intended to avoid some of the supposed problems with traditional snooker, where some frames take a lot longer than others and some are just unexciting (however skilful) with lots of safety play. A more or less standard length for matches is of course much more attractive for television.
Moreover, spectators are encouraged to interact with players, rather than just sit in respectful silence, and the players can wear a live microphone if they wish. And, to cater for the laddish element among spectators, both referees are women. Each has her own website (something not thought to be common among football referees, for instance).
The staid world of 'ordinary' snooker is fighting back, with a one-frame knockout tournament (maximum ten minutes per frame) in Blackpool at the end of January. 'Blackpool Beauties' will walk victorious players out of the arena, while 'two bouncers with character' will 'escort players through the "walk of shame" as they exit' (www.worldsnooker.com).
All this appears to have little if anything to do with sporting prowess and everything to do with getting the punters in, and especially the sponsors and the TV companies. Hence the glitz and glamour and the time limits. And it's hardly surprising to learn that the rich guys behind Power Snooker have worked previously in the entertainment industry rather than sport.
PB