2010s
>>
2019
>>
no-1374-february-2019
Book Review: 'The Sarawak Report – The Inside Story of the 1MDB Exposé'
Scam Exposed
'The Sarawak Report: the Inside Story of the 1MDB Exposé', by Clare Rewcastle Brown (Lost World. £14.99)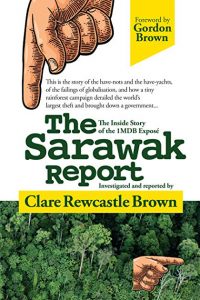 In May last year there was a general election in Malaysia in which the Prime Minister, Najib Razak, was voted out of office. This was the culmination of events dating back to 2009 and involving a massive scam in which billions of dollars were allegedly siphoned from the country's finances into shell companies and the pockets of Najib himself and others. How all this was exposed is chronicled in considerable detail here by Rewcastle Brown, an investigative journalist whose blog www.sarawakreport.org played a major role in bringing things out into the open.
The book and the exposé can be quite hard to follow for those not familiar with Malaysian politics; a glossary would have been very helpful in keeping track of the individuals and institutions involved. So we will focus on some of the more general issues which emerge.
One is the rarefied lives lived by a tiny number of elite people. Najib – who was also the Malaysian finance minister – used some of his wealth to buy votes in elections, while his wife had a liking for jewellery and expensive handbags. The 'businessman' Jho Low owned a mega-yacht and enjoyed throwing fabulously expensive parties. The Saudi royal family were involved too, and a company called PetroSaudi was used as a front for 1MDB (1 Malaysia Development Berhad, which is the equivalent of 'plc').
Stealing vast sums of money is all very well, but the funds need to be transferred into the global economy in order to be used. Ways of doing this include use of private banks, shell companies and tax havens, but also buying works of art (such as a Picasso painting for $179m). Large auction houses, Rewcastle Brown argues, need reform just as much as dodgy banks do.
There is also the issue of the ways in which the ultra-rich defend themselves. Lawyers write letters to those investigating their clients, demanding apologies or threatening to sue. PR firms are paid to produce vitriolic personal attacks on bloggers and journalists and, in this case, run a website Sarawak Reports (with the extra 's'). Fake accounts are set up on social media, and Facebook and Twitter are useless in combating what the author calls 'a professional defamation industry'.
Sarawak is a state of Malaysia on the island of Borneo. Rewcastle Brown was born there, and she tells the story here of how many indigenous people have suffered under the corruption and profiteering of Malaysia's elites: 'Tribes that had survived for centuries by their own skills, living in the jungle off abundant fish, vegetation and meat, were now stranded and starving in the face of "progress".' The whole book shows how a few people can attempt to fix things in their own interests, even if in this case they were in the end not successful.
PB