Exhibition Review: Changing Lives – 200 Years of People and Protest in Sheffield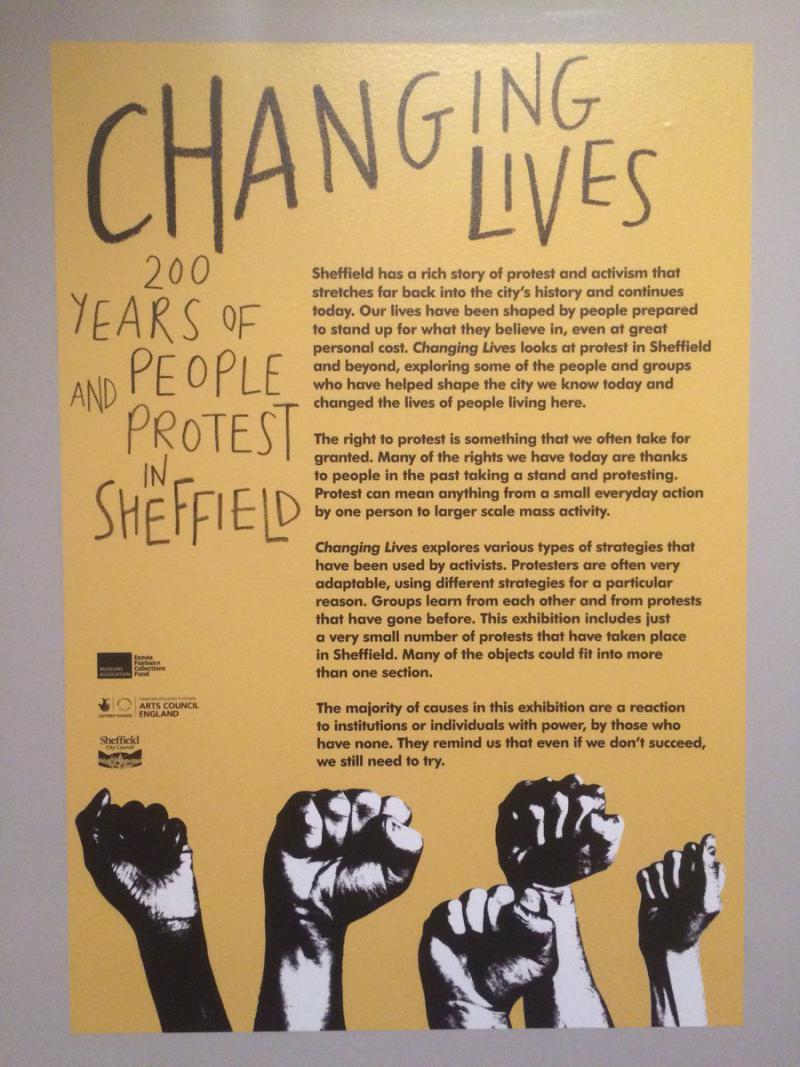 In 1795 local militia fired on a crowd in Sheffield, killing two people and injuring many others: this is the earliest example mentioned in an exhibition at the city's Weston Park Museum. In 1819 fifty thousand attended a meeting to show solidarity with the victims of the Peterloo Massacre in Manchester, while in 1840 Samuel Holberry attempted to organise a Chartist uprising in Sheffield, but he was betrayed to the authorities and imprisoned; a bust of him is displayed.
And so the protests and struggles continued, from the Sheffield Women's Suffrage Society (formed 1882) to the gay-rights campaigning of local resident Edward Carpenter. In the last century Sheffield and surrounding areas played an important role in the fight for access to the countryside; G.H.B. Ward, one of the main organisers, referred to the 'gentle art of trespassing'. The miners' strike of the 1980s naturally gets a lot of attention, but so does a less well-known but even longer-lasting strike, at the Keeton engineering firm from 1986 to 1994 (38 workers were sacked after a secret strike ballot).
More recent protests covered here include current campaigns against the council's tree-felling policy, and anti-Trump posters, one of which announces, 'Gi 'Oer Tha Gret Wazzock' (wazzock is a dialect term with a pejorative meaning).
At the Millennium Gallery in Sheffield city centre is an exhibition 'Hope Is Strong', which is claimed to explore 'the power of art to question the world we live in'. Sean Scully's 'Ghost' is a painting of the US flag, with the stars replaced by a gun. The most powerful piece here is Jeremy Deller's installation 'The Battle of Orgreave', dealing with the most notorious confrontation of the miners' strike, and making it quite clear how the government had it in for the miners and their union.
PB