Greasy Pole:"…Less Equal Than Others…"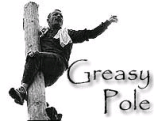 …Less Equal Than Others…"
As the snowdrops and daffodils signal an approaching spring – and another general election – anyone who has doubts about the government being in a panic should remind themselves that one of Labour's top electoral strategists, plotting to steer the party to another term of chaotic fumbling across the face of British capitalism, is Harriet Harman. Yes – she who alone survives of those breezy, achingly ambitious Blair Babes who so cheerily arranged themselves for the cameras on that May morning in 1997 when nothing seemed beyond them. There were Margaret Beckett; Ruth Kelly; Patricia Hewitt; Hazel Blears; Caroline Flint…but none of them hung on to a place near the top of the greasy pole. Only Harriet Harman, whose very name once had John Prescott displaying his stock of seaman's expletives like flags at a ship's mast, got there. Notwithstanding that while declaring herself an opponent of selective education she took care to get her son into an exclusive grammar school some way from her home saying that "we did it for our son." Or that she voted in February and March 2003 in favour of attacking Iraq but feebly excused this, when she was campaigning for Labour's Deputy Leadership in June 2007, as due to her not being in possession of the full facts.
Survivor
Meanwhile, apart from now being Deputy Leader and Chair of the Labour Party, Lord Privy Seal, Leader of the House of Commons and Minister for Women and Equality, Harriet Harman has taken on the monstrously demanding job of trying to dissuade a betrayed electorate from descending into a sense of outraged alienation and political apathy. But perhaps all of this has followed because, reacting to what has befallen her, Harman has become a survivor. In 1998 it seemed to be all over for her when, after just a year in charge at the Department of Social Security – notable for persistent clashes with junior minister Frank Field over Labour's plans to "reform" the "welfare" system – she was abruptly sacked. Yet three years later she bounced back as Solicitor General since when, if we disregard some typically indiscreet gaffes, her progress has been pretty – although at times bewilderingly – smooth. Which is not to say there may not be trouble ahead; Labour has decided that the class system is a likely vote winning issue in the election and Equality Minister Harman has been chosen to spearhead their campaign.
Class
This was an interesting choice, if only because of her secure family background and social connections – apart from anything else she is the niece of an earl and (according to an "amateur genealogist") related through her aunt's marriage to none other than Old Etonian David Cameron. Harman has done her best to re-assure us on this matter, arguing inside the Labour Party against an all-male leadership on the grounds that men "cannot be left to run things on their own" and suggesting that in the next parliament there should be 39 openly gay MPs. More significant are her views on class society, its nature and effects: "Persistent inequality of socio-economic status – of class – overarches the discrimination or disadvantage from your gender, race or disability…The public wants an equal society, one where there is not a yawning and growing gap between the bottom and the top". While the first part of this statement is valid enough it avoids the question of how "the public" views class society and how susceptible they are to the argument, tirelessly pumped at them by their leaders, that it is the very inequality in the class structure, protective and enhancing, that drives capitalist society to the benefit of everyone whatever their class. This all avoids the vital question of why this Minister with the job of adjusting us into an "equal" society is a member of a government which over 13 years of power has failed to deal with this "overarching" problem – and why it should suddenly be so urgent.
Poverty
There has been no lack of promises, explicit or otherwise, from the Labour government since 1997 but let the most recent, in their 2005 election manifesto, suffice: "Our vision is clear; a country more equal in its opportunities, more secure in its communities, more confident in its future".That drivel would have impressed only the most impenetrably blinkered; the rest would have preferred to rely on their real experiences of Blair and his government. There is plenty of evidence about this, the most recent being the National Equality Panel report An Anatomy of Economic Inequality in the UK. Among the report's findings are: the richest ten per cent are more than 100 times as wealthy as the poorest; the top one per cent each possess a total household wealth of £2.6 million or more; being born into a disadvantaged class does intensive damage to a person's chances in education and beyond, affecting whether they realise their potential and so improve their life chances. At the same time Save the Children told us that 13 per cent of UK children are living in severe poverty.
When politicians like Harman hold forth on this situation they offer only confusion, encouraging an assumption that a person's social situation and prospects can only be judged by reference to insignificant changes in their income. But this does not even approach the heart of the matter, the key to which is the ownership of the means of life by a minority class who live off their privileges while the other class depend on employment with all that means in terms of class misery – insecurity in their livelihood, homes, survival and expectations. This is the authentic meaning of class society and of the inequalities which will endure despite the politicians' rhetoric.
IVAN