Proper Gander -Gathering storm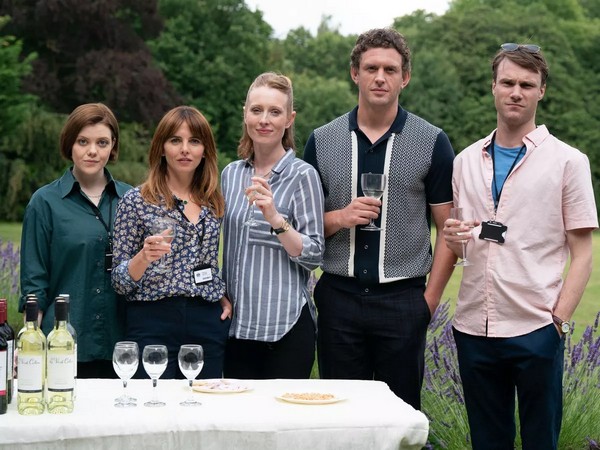 Staying behind at work to get drunk and tunelessly sing karaoke with colleagues every few weeks isn't in most people's routine, and certainly wasn't during the Covid pandemic. But that's what happened then in 10 Downing Street, the place which issued the restrictions on gatherings for the rest of us. During the lockdowns which began in spring and winter 2020, at least 16 leaving dos, quiz nights and 'Wine Time Fridays' were held behind the shiny black door while the rest of the country was policed for illegal meet-ups. Channel 4's docudrama Partygate was a sobering reminder of the Conservative Party's not-so conservative parties. The programme's dramatised scenes of government staff's boozing, trips to the alcohol aisle in the supermarket and incriminating email exchanges were derived from findings in the inquiry headed by senior civil servant Sue Gray and the police's investigation. Alongside these scenes were clips from past news broadcasts, often of Boris Johnson saying something crass.
The drama focuses on the party-animal team of 'special advisers' working in Number 10, particularly a newcomer to the Brexit Unit when the pandemic hit, Grace Greenwood, played by Georgie Henley. While she and many of the other characters aren't specific real people, they plausibly represent a breed of young, posh graduates from the 'right' establishments who sycophantically support Boris Johnson. He's only depicted in the dramatised sections from behind or at a distance. When he speaks, as voiced by Jon Culshaw, he comes out with embarrassing strings of half-formed quips which his fan club laps up. Other real people portrayed include Johnson's special adviser and head of operations, Shelley Williams-Walker, who was made a Dame in his resignation honours list, perhaps for services to DJing during the parties. Another is Helen MacNamara who, as the government's ethics chief at the time, presumably thought that providing a karaoke machine for a leaving bash was the morally right thing to do.
Cleaners and security guards are the only staff depicted as having any sense of responsibility, but too low down the pecking order for this to count, such as when a guard is given the brush-off after trying to object to one of the get-togethers. The police's response to attending at least one Downing Street gathering hasn't been revealed to the public, although details of some of the fines awarded have been. Boris Johnson and Helen MacNamara each paid £50 fixed penalty notices for attending parties, with MacNamara denying any partying. Rishi Sunak, then Chancellor of the Exchequer, was also issued with a £50 notice, along with 80 others, meaning that Downing Street was the address with the most Covid regulation penalties in the country. Between the dramatised scenes we hear from people fined larger amounts, like Xen Watts, the organiser of a snowball fight in Leeds who was issued with a £10,000 fine and Toriano Reed from London who was ordered to pay £14,300 for being held responsible for a gathering in his shed.
The programme also includes interviews with people who kept to the lockdown rules through their most difficult times. Alan Handley from Tamworth talks about his wife's funeral, which only eight family members could attend, sitting two metres apart. Emma Jones from London speaks about how her daughter couldn't meet with her friends or relatives before she died of cancer. While these, and others, aren't likely to forget how Downing Street staff ignored the rules, after enough time passes, scandals like Partygate tend to get pushed away from most people's attention, replaced by different criticisms of the government (such as debates around immigration or the HS2 railway line) and wider bad news. So, the programme was a useful reminder of how the Conservative Party has operated, with a smug assumption of superiority. The characters working in Number 10 featured in the programme consider themselves above the rest of us, and therefore not subject to the same rules, especially the lockdown laws they devised. They act like this not because they're Tories as much as because of their distance from the populace created by the institution they work (and partied) in. The framework of government comes with a very limited type of democracy, but the special advisers are unelected. Instead, they're selected from a small bubble of objectionable yuppies active in whichever political party is dominant. So, they're even less accountable than voted-in politicians. The Partygate scandal drew attention to this aspect of government, behind the polished spin which it prefers to present.
Sue Gray's report was published in May 2022, soon after the police completed their investigation, so Channel 4's dramatisation of their findings has come late to the party, so to speak. Its broadcast was still timely, though, coinciding with October's Conservative Party conference. This scheduling looks like a jibe by Channel 4 at a government which has wanted to review its broadcasting remit but probably won't get the chance before the next general election. But the programme does more than reproach hypocritical Tories drunk on power as much as on red wine. It highlights how they acted as they did because the institution they are part of is so detached from the rest of us.
MIKE FOSTER
---