Action Replay – Gaming the system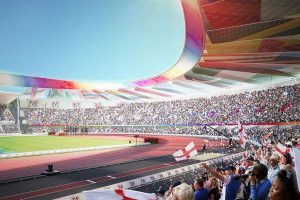 The Commonwealth Games are nowhere near as big a sporting gathering or media show as the Olympics, but are still pretty sizeable, with twenty sports, over five thousand competitors and 1.5 million tickets sold for last year's Games. They have taken place in the UK several times in recent years: Manchester in 2002, Glasgow in 2014, Birmingham in 2022.
But things have started to go pear-shaped. The 2022 Games were originally awarded to Durban, but after possible financial problems were given to Birmingham instead. The Australian state of Victoria has decided not to stage the Games for 2026, on account of the rise in costs, with claims that the original estimate was likely to be doubled. The Commonwealth Games Federation is searching for a replacement host, and has said it could delay the Games until 2027 to allow for arrangements to be made. The Canadian province of Alberta has pulled out of a bid to host the Games in 2030, with a government minister saying the cost was a burden 'too high for the province to bear'.
On the other hand, it has been argued that, in recent cases, for each dollar spent by governments on operating costs and venues, two dollars was generated for the local economy, with improved transport links and more jobs. 'That feelgood factor is great for business, and it really helped businesses to boost their profile,' said the head of the Greater Birmingham Chambers of Commerce after the 2022 Games. One possibility for 2026–7 is that Birmingham could step in once more. But as usual under capitalism, visions of profit and economic growth are not always enough to persuade people to put their money in. Championships in other sports are often more attractive to sponsors and broadcasters.
There have been suggestions that the Games may not be held again, or that if they are, it will have to be in a very different format, perhaps with fewer sports or in more than one location. One former badminton medallist said, 'the really sad thing about the news … about Victoria withdrawing is it's hard to escape the fact that this is almost certainly the beginning of the end for the Commonwealth Games. It's really hard to see how it has a long-term future now when so many governments and countries are just so reluctant to pay the cost'.
The Games began in 1930 as the British Empire Games, and are sometimes referred to as the Friendly Games. The Commonwealth Games Federation website states: 'We create and celebrate a uniquely inclusive and diverse sporting movement, levelling the playing field and addressing inequality in sport in all its forms, so that all people of the Commonwealth know that sport is for them'. Nothing to do with international rivalry, flag-waving or making a profit, then.
PB
---