Proper Gander – Hard Labour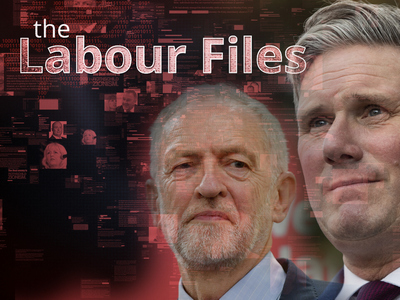 The ongoing shambles of the Conservative Party's leadership has overshadowed the recent shambles among the leadership of its Labour Party competitors. Although the downfall of Jeremy Corbyn after the 2019 general election was explained by many as due to his regime's stance on Brexit and managing the economy, it has also been tainted by accusations of antisemitism among members. Al Jazeera's four-part documentary series The Labour Files examines the party's toxic culture over the last couple of decades, through how these allegations arose and were handled.
The programme came about from what Al Jazeera describes as 'the largest leak of documents in British political history'. Hundreds of thousands of internal Labour Party emails and records along with audio and video clips dating back to the late '90s were received (by whom? From whom?), and the programme-makers focus particularly on details of the party's disciplinary proceedings against its members. These cases resulted in hundreds of party activists being suspended or expelled, some of whom appear on the documentary to speak about what happened and be shown for the first time correspondence about them. The allegations are revealed to follow a similar pattern, whether in Brighton, Harrow or Wallasey in Merseyside, with party officials searching through members' social media accounts to find posts critical of Israel and then launching disciplinary procedures on the grounds of antisemitism. Those accused were supporters of Corbyn, who said that if his party got into power it would recognise the Palestinian State towards a two-state solution to the Israeli-Palestinian conflict. Their accusers tended to be pro-Israeli backers of then-leader-in-waiting Sir Kier Starmer, with some even shown to have links to the far-right English Defence League. Corbyn's spell as leader and its aftermath have brought to the fore nasty divisions between members supportive of Israel or Palestine.
The Labour Files' claims that actions against Corbynites were unsubstantiated and unscrupulous have been denied by Labour itself, along with some of the individuals criticised. The documentary is also critical of how some branches of the media fuelled the original allegations, especially an edition of the BBC's Panorama from 2019 titled Is Labour Anti-Semitic?, which invited a reply of 'yes'. This is cited as an instance of how the predominant narrative in the mainstream media has been anti-Corbyn. Starmer (against the advice of Labour's lawyers) later agreed to pay out a six-figure sum to Panorama's lead journalist and seven previous Labour employees, apologising for them being defamed by claims that their actions were motivated by opposition to Corbyn. Corbyn then said in a Facebook post that this payment risked 'giving credibility to misleading and inaccurate allegations'. A few days after Al Jazeera released its criticism of the edition of Panorama, the BBC reported on allegations that bullying and harassment among Al Jazeera's staff went unchecked. The dispute within the Labour Party has spilled out into a spat between the two broadcasters.
The mainstream view promoted by the Panorama episode and elsewhere was that Corbyn didn't adequately tackle antisemitism in his party, with the implication that this is due to his pro-Palestinian outlook. It's argued in The Labour Files that Corbyn was damned either way: if he tried to speed up the processing of disciplinary cases he then would be accused of interfering in them. Lawyer Martin Forde's report about racism in the Labour Party (commissioned under Starmer's leadership and published in July 2022) said that there was no evidence that Corbyn's administration hid or didn't deal with allegations of antisemitism, and that antisemitism was used as a weapon by both factions in the Labour Party. The report also describes a 'hierarchy of racism' in the organisation, meaning that attitudes towards prejudice differed depending on which group was the victim. Examples given of this include how complaints of antisemitism were addressed but Asian members were treated with suspicion by others who believed they were infiltrating branches, and how black people and those in other ethnic groups were side-lined so that Labour could instead court their traditional 'red wall' voters. So, while The Labour Files casts doubt on the widely accepted extent of antisemitism in the party, it also highlights other discrimination its members experienced.
The documentary shows us that the Labour Party isn't the saviour of the working class which many people still want it to be. According to the original allegations it's been contaminated by anti-Semites or, as the programme argues, it's contaminated by people (some with far-right connections) willing to trump up charges to discredit their rivals.
Al Jazeera is funded by Qatar's government, and in return for its money it would want the channel's output to support its own narratives. The Qatari government is critical of the Israeli state's actions and backs Palestine. The Labour Files reflects this stance by being critical of a pro-Israeli tendency in the Labour Party who stirred up concerns about antisemitism to discredit pro-Palestine Corbyn and his supporters. This doesn't disprove what the programme claims, but it reminds us that viewpoints in the media are there to support the perspective and priorities of entities with enough funding to promote them widely.
Despite the weight of the claims made against the Labour Party in Al Jazeera's investigation, it has been scarcely commented on elsewhere in the mainstream media (and the Forde Report was also covered less than may be expected). While there's a lot else happening in the world for journalists to report on, this suggests that many media outlets want to avoid upsetting Starmer's Labour now that the Tories are increasingly discredited.
MIKE FOSTER
---
Next article: Book reviews: Schmelzer, Vetter and Vansintjan / Working Class History / Vijay Prashad ⮞