Material World – A forlorn and forgotten nation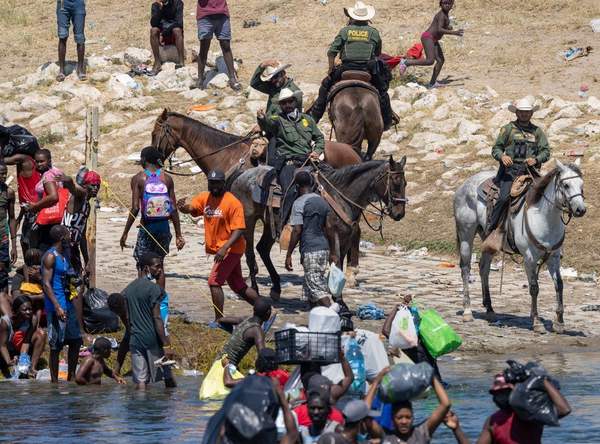 Once described as the 'Pearl of the Caribbean' and known as being the world's first black ex-slave republic, Haiti is now the poorest country in the western hemisphere. According to the World Bank , in 2020 Haiti had a GDP per capita of US$2,925, the lowest in the Latin American and Caribbean region, less than a fifth of the average of US$15,092.
Nearly half of the 11.4m population is food insecure including 1.3 million who are facing the UN's level 4 classification. Level 5 is the worst level of hunger classification – famine. Resources for humanitarian aid are running out in Haiti and the World Food Program is already facing a shortage of at least US$39 million in funding for Haiti operations.
The country is also enduring political instability following the July 2021 assassination of President Jovenel Moïse compounded by a devastating earthquake that followed in August.
News media in 2021 showed US Border Patrol guards on horseback whipping Haitians desperate to enter the United States via Mexico and many migrants and asylum seekers have been flown back to Haiti despite having nothing to return to. At the time, it led to the resignation of a senior career diplomat, Daniel Foote, who was the US special envoy for Haiti, in protest over the deportations which he described as 'inhumane'.
It is a policy that has persisted. The USA in the first seven months of this year forcefully repatriated more than 20,000 Haitians compared to 19,629 for all of 2021, according to statistics from the United Nations' International Office for Migration.
The numbers of people desperate to flee by attempting the dangerous sea journey to the United States have increased significantly and many have drowned. The US Coast Guard's website notes that migrants intercepted at sea can be returned to their country of origin 'without the costly processes required if they had successfully entered the United States.'
White House Press Secretary Karine Jean-Pierre, herself of Haitian origin, said recently, 'I've known this president for a very long time. This is very personal to him. He cares about the people…' (aol.it/3Qru4lW).
One as young as she may not be blamed for not knowing that back in 1994 when Biden was a senator, he said, 'If Haiti just quietly sunk into the Caribbean or rose up 300 feet, it wouldn't matter a whole lot in terms of our interest.'
Gang warfare between rival factions, mainly the G9, G-Pèp and the 400 Mawozo in Cité Soleil, an impoverished and densely crowded shanty-town of Haiti's capital, Port-au-Prince, has left many people dead. Outside the urban areas Kokorat San Ras control the highways, extorting and ransoming trucks and buses with impunity, forcing aid agencies to rely on expensive air transport for their supplies.
At least 155 kidnappings took place in the month of June, compared to 118 in May, according to a report released by the Center for Analysis and Research in Human Rights. Families have no alternative but to remain trapped inside their homes, unable to go and fetch food or water.
According to the UN, between 8 and 17 July 2022, over 471 people were killed, injured or unaccounted for. Around 3,000 people have also fled their homes, including hundreds of unaccompanied children, while at least 140 houses have been destroyed or burnt down.
Mumuza Muhindo, head of the local Doctors Without Borders, said, 'It's a real battlefield. It's impossible to estimate how many people have been killed' (bit.ly/3zJRo7M).
Restricted access to basic health, nutrition and water and sanitation services as a result of escalating violence, coupled with soaring food prices, inflation and food insecurity in Cité Soleil, leave one in five children suffering from acute malnutrition, and one in 20 children living in Cité Soleil at risk of dying.
'We cannot sit idly by and watch children suffer from malnutrition and its complications,' said Bruno Maes, UNICEF Haiti Representative (uni.cf/3Jz6OzW).
But that is exactly what is happening.
Haiti's ruling class are indifferent and do not have a sense of belonging to Haiti, says Leslie Voltaire, a prominent Haitian. 'They don't care, because it's not their country, they have houses in Santo Domingo, Miami, every weekend they go to Miami to buy their things and come back' (bit.ly/3zAliet).
Some small good news is that the UN Security Council belatedly voted to ban the sale of small arms and ammunition to what it calls 'non-state actors' in Haiti.
ALJO
---