50 Years Ago – The five jailed dockers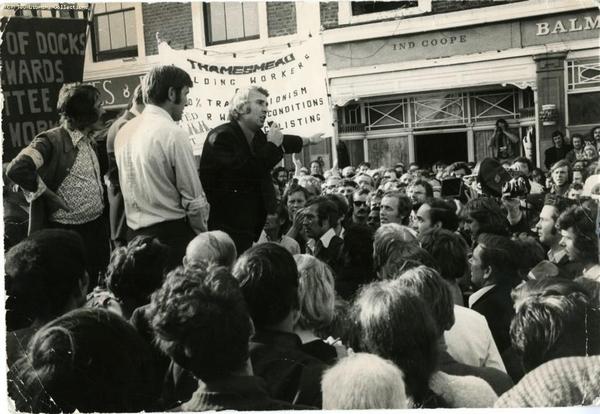 The dockers are worried about their jobs, or rather about the drop in standard of living they will suffer if they lose them. Since 1967 the number of dockers has fallen by a third, from 60,000 to 40,000, mainly as a result of the so-called container revolution. One aspect of this problem has been that much container work, even in dock areas, has been done by workers other than dockers, some non-union, some members of other unions, but all generally at lower wages.
It is the policy of the dockers' unions, the Transport and General Workers Union and the rival National Amalgamated Stevedores and Dockers (expelled from the TUC in 1959 for 'poaching' TGWU members), that the work should be done by dockers, at dockers' wages. To this end, the dockers have taken various forms of industrial action, official and unofficial, legal and illegal, from blacking container firms to a national docks strike.
A number of the blacked container firms took the TGWU and some of the shop stewards (from both unions) to the National Industrial Relations Court complaining that the blacking was an 'unfair industrial practice'. The Court agreed: the TGWU was fined at least £55,000 and, eventually, five dockers sent to prison for 'contempt of Court'.
The reaction to the jailings shows that working-class, or at least trade-union, solidarity still exists. Besides other dockers, thousands of newspaper workers, miners, train drivers and others (including those at the blacked Midland Cold Storage depot) stopped work. Such was the pressure that even the TUC would have called a one-day general strike of all its ten million members if the five dockers hadn't been released, an unprecedentedly daring move from the Knights of Congress House. And of course they were released, obviously as a result of this working-class resistance. The government itself may not have directly influenced the Courts, but the workers on strike did. The House of Lords and NIRC were left with no alternative but to hurriedly concoct some legal excuse for letting the men out.
This was a successful defensive action by the working class and one which the Socialist Party of Great Britain welcomes just as we would have supported the one-day TUC general strike.
(Socialist Standard, September 1972)
---