2010s
>>
2017
>>
no-1351-march-2017
Exhibition Review: Art of Solidarity – Cuban Posters for African Liberation 1967-1989
Cuban poster art
Art of Solidarity: Cuban Posters for African Liberation 1967-1989, International Slavery Museum, Liverpool, 13 January to 18 June 2017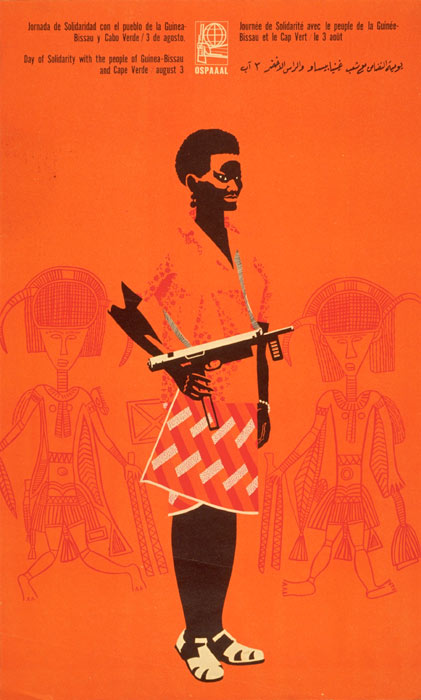 'Art of Solidarity' is an exhibition of thirty two rarely-seen posters produced by Cuban group 'Organisation in Solidarity with the People of Africa, Asia, and Latin America (OSPAAAL)'. Posters were created using an offset method and silk screen techniques combining art, photographs and text. Each colour required a day to dry. Quite correct is the comment that 'This created posters with striking images and strong political messages.'
It slightly glibly goes on to say 'Designers used the imagery of both traditional and modern weapons to symbolise resistance and political power … Every poster by female artist Berta Abelenda Fernandez includes some sort of weapon from spears to bazookas often in a witty unexpected way.' OSPAAAL itself used the logo of a clenched fist around a rifle.
'Solidarity can mean many things ranging from military support to foreign aid. In the 1970s and 1980s, Fidel Castro sent over 60,000 troops, advisors and doctors to seventeen African nations in support of various liberation movements in Angola', claims one description, adding 'solidarity can also be expressed through public support, for example, posters' and the critical role played by Cuba in ending apartheid. These definitions (of 'solidarity' and 'liberation') and connections might be more ambiguous than is implied here.
On the more unambiguous and positive side, and in contrast to Stalin's enforcement of the 'socialist realism' art style, was Fidel Castro's encouragement in 1977: 'Our enemy is imperialism, not abstract art.' And one writer notes that in the Cuban posters, 'There are few examples of hero worship unlike Mao in China or Lenin in the Soviet Union.' Writer Lincoln Cushing comments 'the non-commercial mass poster was the direct fruit of this revolution, a conscious application of art in the service of social improvement.' It would be hard to disagree that Cuban poster art was anything but flourishing, if the claim elsewhere that Cuba produced some twelve thousand posters specifically means differing designs rather than just prints.
Cuba's historical links with Africa were real, as during the transatlantic slave trade some half a million Africans were transported to Cuba. There was also a respect artistically, that meant many posters incorporate cultural objects or references dispelling the idea that Africa had no history, art or civilisation prior to European contact. Posters were produced for Angola, Zimbabwe, Mozambique, Ethiopia, Congo, Namibia, South Africa, Guinea and Guinea Bissau and Cape Verde. However, it would be remiss not to mention here that multiple military interventions were made by Cuba in more than one African country.
Should you visit the exhibition, then plan to spare an hour for the film screening (on a loop) 'Cuba: An African Odyssey' (directed by El Tahri) and visit on one of the days of the free events (20/3, 13/4, 1/5, 15/5, 5/6). More images of these posters and information can be found in the book 'Revolution: Cuban Poster Art' (2003) and the website http://docspopuli.org.
As a final comment, as the influential African intellectual, the late Amílcar Cabral said on revolution in Africa: we do not want exploitation, even by black people.
DJW