Exhibition Review: Lion Salt Works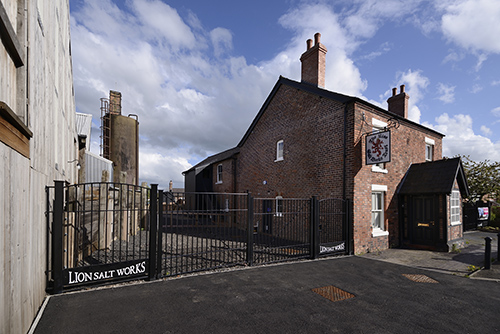 The Cheshire salt towns lie near the valley of the River Weaver, on two bands of salt laid down over two hundred million years ago. Brine had been extracted by evaporation from them since the Iron Age, and rock salt mining began in 1670. Only in the nineteenth century did the salt industry become really large, though, as exports via Liverpool increased and the chemical industry needed more supplies. By the end of that century, open-pan salt making was in decline, as the modern method of vacuum evaporation took over. Large companies now produce salt cheaply and with far fewer workers. The 125 employees of British Salt at Middlewich (owned by the Tata Group) produce about 800,000 tonnes of salt a year.
Traditional salt production was environmentally very unfriendly. In addition to air pollution, with the nearby towns covered in soot, one consequence was subsidence, as land was undermined by the removal of salt below and gave way, sometimes resulting in lakes known as flashes. A special method of building houses with timber frames so they could be lifted up after subsidence was developed.
The work of producing salt was extremely physically demanding, largely because of the excessive heat and humidity required in the pan houses. Clothes, and even clogs, rotted very quickly. There were complaints of scandals when women in shifts and petticoats worked alongside men stripped to the waist, which happened down to the 1870s. Salt workers worked long hours and the work was seasonal. Unions did their best to ensure that in slack periods work was shared round, rather than workers being laid off. A strike in 1889 led to some workers having more say about their hours but less overall control of their work.
The Lion Salt Works, at Marston near Northwich, alongside the Trent and Mersey Canal, opened in 1894. It closed in 1986, after the Nigerian Civil War had meant the loss of its main market. It is now preserved as one of only four open-pan salt works in the world, a museum with original buildings, machinery (pumps, boilers and steam engines), exhibits and informative displays. Some of the galleries are in the former Red Lion Inn, built to quench the workers' thirst. The Manager's House was where the owners, the Thompson family, worked, taking orders and handing out wages. Recordings of workers talking about their labours are included, and there is information on how some of the flashes have become wildlife havens. There is an attempt by means of special effects to replicate the steam rising from the salt pans, but inevitably it is difficult to give any real impression of what the working conditions must have been like.
The Lion Works is a fitting tribute to the workers who toiled in a now-vanished method of labouring.
PB