2010s
>>
2016
>>
no-1340-april-2016
Tony Blair – Big Business, Big Dictators, Big Money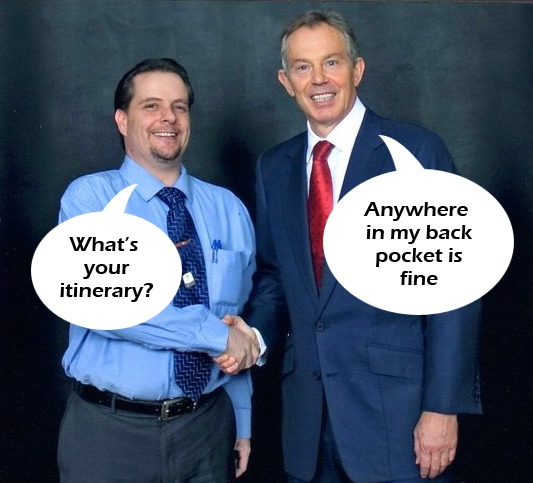 Blair's successful career of getting people to vote for him and make him Prime Minister, 1997-2007, meant he was able after leaving 10 Downing St to move into the very remunerative world of advising wealthy companies and foreign governments.
He made a good start. J. P. Morgan, the American investment bank, hired him to advise them for a fee of about £2.5 million a year. He got other deals from Zurich Insurance, Bernard Arnault (part of a luxury goods conglomerate), and the International Sanitary Supply Association (Times, 2 March). His main firm, Tony Blair Associates, has been doing very well ever since. Not only rich businessmen, but autocratic rulers round the world, can count on Blair's support, at a price.
Egypt
In 2013 Egypt's first ever elected government (like every other government round the world, it was disreputable and unscrupulous – but it was elected) and its President Mohamed Morsi were overthrown by an army coup, a thousand 'dissidents' being killed, and thousands more arrested. Blair hurried over to Cairo to see the new army leader, Abdel al-Sisi, and went on Egyptian television to give his support. 'We can debate the past and it's probably not very fruitful to do so, but right now I think it's important the international community gets behind the leadership here.' Previously Blair had given his backing to an earlier Egyptian dictator, Hosni Mubarak, and to the Libyan dictator, Muammar Gaddafi (Guardian, 30 January 2014).
Blair keeps up a high moral tone. In 2007 he went to China (in a private jet, naturally) and told a meeting of philanthropists (who paid £1500 a head – more than a Chinese production worker then got in a year) that you should be judged not on what you do for yourself but on what you do for others. He made $500,000 for that speech.
Kazakhstan
One of his main clients is Nursultan Nazarbayev of Kazakhstan, who pays Blair at least $13 million a year (some say twice as much as that). In the days when the country was part of the Soviet Union, Nazarbayev rose to become First Secretary of the local state-capitalist party (for propaganda purposes it was deceitfully called the 'Communist' Party); that is, he was the local ruler. Then when the Soviet Union broke up, Nazarbayev held an election for a new President, and (believe it or not) easily won with 91.5 percent of the vote. Unlike rulers in countries with a bit more free speech, he gets more popular the longer he rules. He's been re-elected several times, and was able to announce that he had won the 2015 contest with 98 percent of the vote. The Human Rights Watch perhaps helped to explain this, when it pointed out that 'Kazakhstan heavily restricts freedom of assembly, speech, and religion . . . Torture remains common in places of detention.' Nazarbayev was anti-religious in the Soviet days when that was the party line, but since then has become an enthusiast for Islam (most Kazakhs are Muslims), and has done the hajj, the pilgrimage to Mecca. There was an awkward business in 2011 when government forces killed fourteen unarmed protestors at a demonstration. Blair was able to advise Nazarbayev how to deal with the public relations angle, and sent him 500 words for his next speech to explain it all away. All this goes down very well with other governments: Russia has given Nazarbayev six medals, and other countries have handed over another twenty-seven – including the dear old United Kingdom, which made him an 'Honourable Knight Grand Cross of the Order of St Michael and St George'. So no one could object to Blair's giving (or rather selling) a helping hand to a knight backed by a couple of saints. (What saints George and Mick really think of Nazarbayev hasn't yet been disclosed.)
Azerbaijan
Another of Blair's clients is Azerbaijan. Heydar Aliyev was the KGB chief when Azerbaijan was in the old Stalinist Russian empire, and soon after independence he became president, until he died in 2003. They know how to handle these matters in dictatorships, and (as with Assad in Syria) Heydar's son – Ilham Aliyev – was immediately installed as ruler. Ilham has a nice little family, two daughters and a son, and they all soon found themselves owning large Azerbaijani companies, not to mention valuable real property. Ilham's son, another Heydar, actually bought some luxury mansions in a Dubai development when he was only eleven years old. Clearly a promising lad. No prizes for guessing who will be groomed to succeed his father in due course as Azerbaijan's freely-elected leader. (In fact the family spent $44 million altogether on Dubai mansions, despite the fact that Ilham's official salary is only $228,000; they must have been saving their pennies.) Blair went to Baku (Azerbaijan's capital) in 2009 and made a speech boosting the regime, in return for a fee of nearly $150,000. 'Journalists and human rights activists have been intensely harassed and savagely beaten' (Guardian 6 January 2015), and opponents find themselves in jail; the security forces have arrested demonstrators 'in order to protect citizens' constitutional rights' (which is one way of putting it).
Rwanda
Among numerous other clients is the ruler of Rwanda. Blair is 'an uncritical friend and well-paid adviser to the likes of Paul Kagama of Rwanda, a violent authoritarian' (Economist, 5 March). In that auspicious country, those who speak against the leader would do well to make their wills. A number of politicians who opposed Kagama have come to a sticky end, while more than one who hoped to baffle Kagama's strong-arm boys by fleeing abroad has met with a violent and unexplained demise even in a 'safe haven'.
Blair's wife Cherie is in on the act. She has founded a firm to provide 'strategic counsel to governments, corporates and private clients'. One of her customers is the president of the Maldives, Abdulla Yazmeen, who has put the leaders of three opposition parties in jail, along with another 1700 opponents.
Providing help to despotic potentates round the world certainly pays off. Blair's personal fortune is now estimated at £70 million. Windrush Ventures (which advises foreign governments; Firebush Ventures looks after affluent companies and sovereign wealth funds) –has just trebled its annual profits to £2.6 million, and the average pay of its forty-eight staff is now over £100,000 (Daily Telegraph, 6 March). A tax specialist professor at City University said Blair when prime minister used to favour 'accountability and transparency'; now he is 'embarrassingly silent about his sources of income'. Blair's London home is a capacious house in Connaught Square (once owned by John Adams, later the American President), near Hyde Park, along with a substantial mews house behind, both guarded round the clock by armed policemen. His country residence, which he bought in 2008, is a Queen Anne mansion in Buckinghamshire, complete with tennis court and swimming pool. In fact Blair is now believed to own thirty-six properties.
Blair is keen to keep on good terms with the other world, and has founded 'Tony Blair's Faith Foundation' to support all the major religions (with its main office in Grosvenor Square, just across from the US embassy); so perhaps he feels that in return the various supernatural rulers of the universe are supporting him, however dubious his activities. Blair's excuse for joining in the invasion of Iraq (which kickstarted the total chaos across the Middle East today – Syria has 250,000 dead, and half the population are 'displaced', i.e. refugees) – his excuse was that Saddam Hussein was a brutal dictator (as indeed he was). He keeps saying he will defend the assault on Iraq 'till my dying day'. How ironic it is that Blair is now making his fortune by supporting other equally brutal dictators.
Socialists have always pointed out that Labour governments, and Labour Prime Ministers, can do no more than attempt to run capitalism more efficiently, and pretend to make people better off. Tony Blair is now apparently engaged in an earnest effort to prove socialists right – at least he's doing his best to make at least one ex-Prime Minister better off.
ALWYN EDGAR