Film Review: Jumping the Broom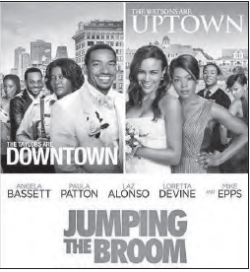 Jumping the Broom is a black (and you can bet there's no pun intended) comedy about class distinction in America's black community.
Sabrina Watson (Paula Patton) a successful lawyer, from a wealthy family, falls for Jason (Laz Alonso), a Wall Street wiz-kid, whose mother Pam (Loretta Devine) is a postal worker. Tensions flare the day before the wedding, when the two families meet for the first time. Pam feels ultra defensive, especially when she observes the Watson's home on Martha's Vineyard, which she compares to the Kennedy compound. When she says grace at supper, the evening before the wedding, Pam sets the tone for the movie by being blatantly insulting.
The crux of the matter becomes her insistence that the 'Happy Couple' "Jump the Broom" This dates back to when African slaves were not allowed to marry and jumped over a broom, which was the equivalent of a ceremony.
Mrs. Watson (Angela Bassett) is totally opposed to this on the grounds that it was a slave ritual. She informs Pam that her family had never been slaves and, in fact, once owned them. That blacks themselves, sometimes, had black slaves is a little-known fact of American history. Class distinctions and the hostilities they create reach boiling point, causing family secrets, such as Sabrina's real parentage, to be revealed. Disgusted with everything, the bride refuses to marry and flees the scene.
This is where the movie, which is Salim Akil's directional debut, breaks down. When everyone's been rubbed the wrong way and all hitherto concealed feelings are in the open, it becomes kiss and make up and "lets give the audience a happy ending" time. This is hardly believable of any family in such a previously volatile situation. What is believable is that, if capitalists invest in anything, they will want as good a return as they can get. If it means giving the public an unrealistic ending, they will do so.
There is nothing new about class distinctions based on money, nor hereditary titles among America's black community. In 1948 when Nat King Cole married Maria Ellington, her wealthy aunt, Dr. Charlotte Hawkins, shunned him because, although wealthy at the time, Cole came from a poor family. Dr. Hawkins, coming from a more prosperous one, had founded America's first finishing school for African American ladies and boasted of her friendship with Eleanor Roosevelt. When the happy couple returned from their honeymoon, Hawkins paid for a banquet in their honour as she considered it her duty, but refused to attend.
Capitalism is as divisive as it is corrupting whether the community be black, white, red, yellow or any other colour, economics will always cause distinctions between people.
STEVE SHANNON