Understanding the American Reaction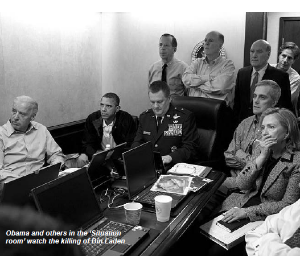 A large majority of Americans – 87 percent, according to one poll – approve of the killing of Bin Laden. Many were visibly overcome by joy when they heard the news, and the subsequent warning by CIA director Leon Panetta that the operation would actually increase the terrorist threat to the US only slightly damped their spirits.

Within a few days of the operation, video games were on the market offering simulated experiences of killing Osama – or, in one case, his ghost! If you get killed by him first, never mind: you can just start over again.

Sam Sommers, a sociology professor at Tufts University, explained the jubilant reaction as follows: "September 11 shook our belief [that] the world [is] a just and fair place where you get what you deserve. Innocent people died senselessly. Seeing this closing scene, for many people, provides a just ending." Hence the "sense of relief" expressed by the widow of one 9/11 victim.
What can account for this strange belief that the world is a just and fair place? How is it possible not to know that innocent people die senselessly every day? Perhaps it has something to do with religion, which has more influence over people's minds in the United States than in most of Western Europe. Perhaps it also reflects the complacent platitudes of "positive thinking".
Good sense
Besides, was 9/11 senseless? It made good sense to Bin Laden. In his journal, captured by the Navy Seals, he wondered how many Americans it would be necessary to kill to make the United States withdraw its forces from the Moslem world. He pursued a carefully devised strategy – to lure America into a long and exhausting war of attrition that would eventually lead to its economic collapse. It was the same strategy he had used – in alliance with the US – against the Soviet Union in Afghanistan. This time too, the strategy so far seems to be working very well.
The worst that can be said of Bin Laden is that he was a ruthless warlord willing to sacrifice innocent people on a large scale to achieve his political goals. Let us grant that this makes him an evil man. But let us be consistent and place this judgment in a broader context. World history is full of such evil men (and a few evil women). They are called "great statesmen".
And look who's talking!
Many American presidents, whether Republicans or Democrats, have been no less ruthless. Osama killed some 2,800 Americans on 9/11. Compare this with the 3,500 civilians killed by Bush Senior in the December 1989 invasion of Panama – a minor affair as American military interventions go. Or the 3,800 Afghan civilians killed by American bombing within three months of 9/11. Or consider the statement by then US Ambassador to the UN Madeleine Albright (in an interview on 60 Minutes on May 12, 1996) that the deaths of half a million children caused by the US-led embargo on Iraq were "a price worth paying".
The United States has now avenged 9/11. "Justice has been done," says Obama. Bin Laden also saw himself as an agent of justice and vengeance (neither of them drawing any distinction between the two). In 2004 he revealed how he first got the idea of destroying the Twin Towers. He was watching the destruction of tower blocks in Beirut on television in 1982, when Israel, backed up by the US Sixth Fleet, was invading Lebanon. Why, he asked himself, should he not "punish the unjust in the same way"?
Clearly, the Towers in New York are not the only twins in this story. It is also a story about twin barbarisms. (Gilbert Achcar elaborates on this thought in his book The Clash of Barbarisms: The Making of the New World Disorder, Paradigm Publishers 2006.)
The assumption of benevolence
The Americans who celebrated the death of Bin Laden were not bothered by reflections such as these. But let's not be too harsh on them. Facts that might inspire critical reflection are never mentioned in the mainstream corporate media aimed at ordinary people. Now and then it is admitted that the United States may sometimes make a mistake, but the assumption of benevolence – the idea that America is inherently a force for good in the world – can never be questioned. No alternative perspective is ever presented. And this "patriotic" outlook is drummed into American hearts and minds from the earliest school years.

And yet it is not just a matter of information and ideas not being available. After all, while by no means a democracy in any real sense, the United States is not a totalitarian state either. Thanks in part to the internet, alternative ideas and sources of information are now easily accessible to those determined to seek them out. But not so very many do seek them out.

Why? One reason is that most people are too preoccupied with earning a living, ensuring their own survival. Social pressures are a very important factor. But perhaps the crucial barrier is within the psyche. If your positive self-image is based on the idea of how marvellous "your country" is, then even if you do encounter discordant information it must be rejected or interpreted as somehow irrelevant. Accepting reality would be too painful, too threatening to the self.
STEFAN