2010s
>>
2018
>>
no-1361-january-2018
Material World: No Promised Land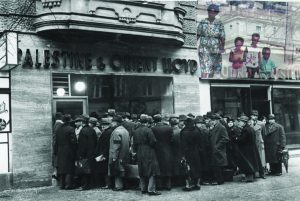 If there were a nation that one would expect to be sympathetic to asylum seekers it should be Israel – a land that became home to refugees. However, rather than being welcomed tens of thousands of Africans are being detained and deported. It appears to be acceptable to persecute people, just as long it doesn't happen to be you.
However, Knesset member Yael German thinks differently saying 'Our history requires us to give them a place here.'
Israel has reached an international agreement that allows the deportation of around 40,000 (5,000 of them children) African refugees with plans to shut down the Holot detention centre giving asylum seekers a choice of leaving the country or going to prison for an indefinite time.
The United Nations refugee agency said it was seriously concerned about the proposals with the United Nations High Commissioner for Refugees telling Israel it had 'legal obligations to protect refugees and other persons in need of international protection.' The Refugee Convention came about after the Holocaust to ensure that nothing like it ever happened again.
The Israeli government dehumanises the African migrants as 'infiltrators' and economic migrants. Yet, there are probably more Russian, Ukrainian and Georgian citizens living illegally in Israel, but they are less obvious because they are white and dwell among the Russian-speaking communities.
Israel has just opened an embassy in Rwanda which has agreed to take the migrants from Israel and receive $5,000 for each one. Rwanda's Foreign Affairs Minister Louise Mushikiwabo has said Rwanda is willing to accept some 10,000 African asylum seekers.
'We are concerned that if you move forward with these plans the lives of thousands of individuals will be put in jeopardy, and the name of the Jewish State and the Jewish People will be irreparably stained,' said the letter by 25 groups including HIAS, the leading Jewish immigration advocacy group, the Religious Action Center of Reform Judaism, the National Council of Jewish Women, the Conservative Movement's Rabbinical Assembly, the New Israel Fund and T'ruah: The Rabbinic Call for Human Rights. 'As a people who were once refugees, and were once strangers in a strange land, we believe we have a special obligation toward refugees, whatever their religion or race…  Please do not deport these individuals who have sought refuge among the Jewish People, but rather let us work together in addressing the burdens and challenges of our moral obligations' said the letter.
'Israel's failure to follow the Jewish imperative to protect and care for the gerim – the landless sojourners who seek refuge among us – is a far greater threat to the Jewish character of the state than is the community of African migrants and asylum seekers who have escaped forced military service, torture and crimes against humanity in Eritrea and Sudan and sought safe haven in Israel,' Rabbi Michael Lezak, co-chairman of T'ruah, told Newsweek.
The Knesset's Internal Affairs Committee approved a bill for its second and third readings to extend limitations on migrants until the government can deport them including taking into custody migrants who violate the geographic limitations imposed on migrants such as banning them from Tel Aviv, where health and welfare services are available. It also voted down requests that exceptions be considered for women, children and disabled people. The Committee had voted 'against allowing sick children to see doctors,' Amnesty International Israel said.
Chen Bril Egri, its head of Campaigns for Refugees and Asylum Seekers called on the country to allow all the migrants to stay and said the panel's decision 'expresses shameful cold-heartedness by the descendants of refugees who have forgotten their past, and who show contempt for basic human rights.'
But such humanitarian appeals will be ignored by some Israelis such as Tel Aviv City councillor Shlomo Maslawi who accuses Africans of '…turning synagogues into bars and selling drugs…' and who peddles the Netanyahu propaganda that South Tel Aviv's poverty, prostitution and drugs can be blamed on African asylum seekers, but many residents recognise he is cynically scapegoating a defenceless population for the government's own negligence and culpability.
Israelcould absorb the African migrants, but by permitting them to live in Israel it would potentially mean opening a door for non-Jews more generally to move to Israel. Given the longer term historical background, challenging the 'Law of Return' remains too much of a taboo for the Israeli political parties from Labor to Likud. But as socialists we sympathise with the suffering of our fellow-workers of whichever ethnicity and we ask them all to set aside their nationalism, their religious bigotry, their ethnic hatred and racism and to join together to put an end to the real problem – capitalism and the oppression it causes everywhere.
ALJO