2010s
>>
2016
>>
no-1341-may-2016
Exhibition Review: The Rhubarb Triangle
The Rhubarb Triangle
Hepworth gallery, Wakefield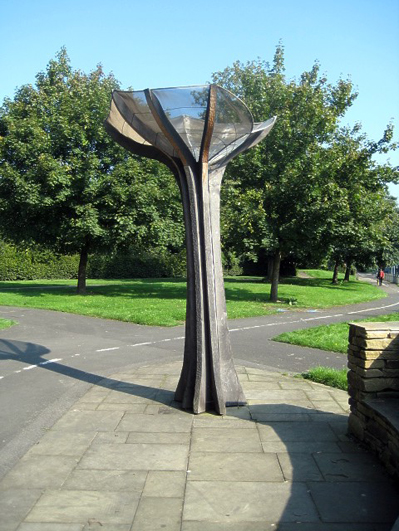 In case you have never heard of it, the Rhubarb Triangle is an area between Wakefield, Morley and Rothwell, where the soils and climate are particularly suitable for the growing of rhubarb. Though much reduced from its heyday in the 1930s, the rhubarb industry is still going strong, and provides one of many examples of locally-sourced food that has been boosted by the celebrity chef culture. Yorkshire Forced Rhubarb has Protected Designation of Origin status from the EU (like champagne and Parma ham), though this is something that growers have to pay for. Much of the rhubarb is grown by small family firms, and the younger generation are often less keen on the backbreaking work involved. A larger company with over thirty workers relies mostly on migrants from eastern Europe, and also welcomes coach tours as a way of increasing interest and profits.
Currently the Hepworth gallery in Wakefield is hosting a display of photos of the Rhubarb Triangle by Martin Parr. These make clear the hard and dirty work that is part of the special techniques required: the plants grow in fields, get the right amount of frost, and are then moved to darkened sheds. Global warming may mean a lack of frost and so disrupt the harvests. There are photos too of the coach tour visitors, and of Wakefield Council's annual Festival of Food, Drink and Rhubarb, complete with someone dressed as a stick of rhubarb and walking around greeting the kids.
The exhibition also includes plenty of other examples of Parr's work, going back a period of forty years. The earliest are in black and white, of chapels in places such as Hebden Bridge and Todmorden. From the 1980s are photos of workers on holiday in New Brighton, which were apparently criticised by some as 'class voyeurism', with a successful photographer providing unsympathetic portrayals of less well-off workers. These are perhaps balanced by photos of Tory supporters at parties and celebrating election victories. There is no doubt, though, which set of people look more alive.
Parr's main interests have been in depicting people at work and at leisure; this exhibition – on until 12 June – provides an excellent overview, and includes some remarkable self-portraits in various guises (and it's worth checking out martinparr.com).
PB