1980s
>>
1987
>>
no-996-august-1987
Film Review: 'Prick Up Your Ears'
Prick Up Your Eyes
Prick Up Your Ears (Stephen Frears)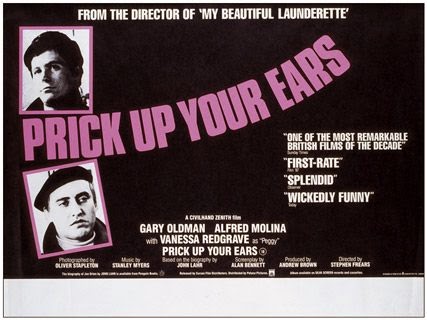 This film charts the meteoric rise and gruesomely spectacular end to the careers of two of the most influential dramatists of the late sixties—Joe Orton and Kenneth Halliwell.
Both men were homosexuals. They lived in a tiny Islington bedsit, wrote plays, decorated the walls of their cage with cuttings from magazines, defaced library books with suitably lewd amendments to their dust jackets and returned them to the shelves (for which they were imprisoned for six months). They also spent a good deal of time cottaging (the pursuit of sex in public toilets) from which the pair built up the Orton Gazetteer of Convivial Conveniences.
But this lifestyle could not last. After they came out of prison the two men grew apart. Orton was writing with confidence and becoming successful while Halliwell became increasingly disconsolate and insecure. The Orton diaries, covering the last eight months of his life, catalogue the descending spiral of Halliwell's decay. Orton's own promiscuous marathons and the eruption of his career, culminating in an Evening Standard Drama Award and the offer to script a Beatles film. Halliwell, ignored uncredited, and left alone with his growing sense of failure, could take no more and, on 9 August 1967 took  a hammer and splattered his lover's brains over the walls of 25 Noel Road, N1, then overdosed on barbiturates.
The intensity and frustration of their existence is conveyed well by the leading actors, in particular by Alfred Molina who plays Halliwell. There are also good cameo performances from Julie Walters as Orton's mother and Vanessa Redgrave as Orton's predatory agent (parallels here with her real-life political activity?).
The laughter, mockery and absurdity with which the characters in Orton's plays could transcend intolerable situations Orton could not match in real life. He, quite literally, lost his head.
Harvey Harwood