Description
William Morris was one of the foremost creative artists of the nineteenth century.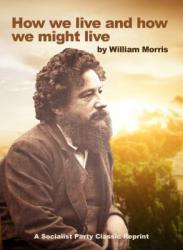 Designer of furniture and wallpaper, printer, architect, novelist and poet, Morris was respected by the 'respectable' people of Victorian capitalist society. His upbringing was far from one of poverty. He was born in March 1834 into a wealthy capitalist family. He was sent to public school and then to Oxford where his mother wanted him to train for the clergy. At university Morris fell under the spell of Ruskin who criticised the mechanised, economically regimented nature of industrial capitalism.
As time passed the success of William Morris as a celebrated artist clashed more and more with his understanding that society was dominated by the values of money and profit. What passed as civilisation was merely the rule of Property. What was the point of being creative in a world which regarded creations of art as just a few more expensive commodities to be bought and sold? What was the point of producing great art when the mass of humanity was confined to the drudgery of wage slavery, forced to produce what was cheap and nasty for a mass market which paid no recognition to craft, skill and quality?
(£2.50) +P&P £4.00