1980s
>>
1986
>>
no-983-july-1986
Book Review: Striking Women. Communities and Coal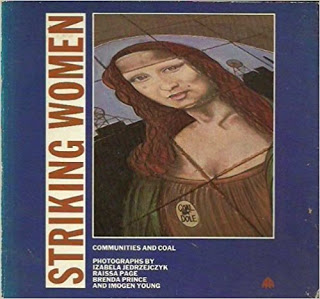 In photographs by Izabela Jedrzejczyk, Raissa Page, Brenda Prince and Imogen Young, this book documents women's involvement in the year-long miners' strike. There is no text as such but captions to each photo, in words by the women pictured. There are women cooking, sorting food parcels, holding meetings (sometimes still in the kitchen) and on the picket line. "We didn't just peel tatties"; "As my children are small, my husband had to look after them while I went to the kitchen, went to meetings . . . " Women were heartened by the strength they gave each other; "I miss it now It was like being part of a family", but it wasn't all fun, especially at pits where many men were still working "I've had intimidating letters, with filthy language".
The solidarity and determination were increased by adversity: "We'll never forget this strike. I don't think it 's over . . . it's just beginning for me. My husband hasn't done seven days in jail for nothing'; but in spite of saying "In one way Margaret Thatcher has done us a favour, because I'm more aware now of what's going on" all the mining communities are asking for is the right to carry on being wage slaves, and not for the abolition of this slavery and for common ownership of the earth's resources.
However, the book does not set out to put forward political theory but simply to show women as they were during that year, and as social history it makes its point. The postscript by Angela John adds a useful list of articles, pamphlets and videos made by community groups. The photo that stays in my mind is of a woman with a hesitant smile and anxious eyes, leaning on crutches, with the colliery behind her in the evening light. Her kneecap was shattered by a truncheon blow. No wonder they won't forget.
AEB