1950s
>>
1959
>>
no-662-october-1959
All My Own Work
All this summer in the Diploma Gallery of the Royal Academy there have been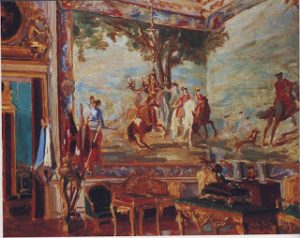 exhibited 60 signed charming paintings by Sir Winston Churchill and like the pavement artist he can truly say "All my own work."
There are landscapes, "battle scapes," etc., interiors of Blenheim showing tapestries, depicting victories of his ancestor, the 1st Duke of Marlborough.
Looking at these brought to mind
Southey's
poem "
Battle of Blenheim
" with its unanswered question "What good came of it at last"? For there are other kinds of items "signed W.S.C." not in any Exhibition. They range back right through two World Wars to the Boer War which was being waged as this century came in. What a ghastly painting it would make: all the millions of dead, blind, insane, widows and orphans doomed in the wars supported by the Marlborough line.
But look a little closer. While W.S.C. could truly sign his paintings "All my own work" his signatures given in Wartime are basically your signatures. You, the working class, who in your overwhelming majority at election times sign your voting slip for Capitalism under its labels Conservative, Liberal. Labour, etc.
Time is now upon you again to give the O.K. to your wage slavery, wars, H-bombs etc., or for you to strike a blow for the freedom and brotherhood of all mankind. You have time before then to become a worker for Socialism. Read and understand the simple facts of your class position: get in top gear as soon as you can. For you, the working class are the power that can rid the world of the vast horrors of capitalist civilisation.
Ted Kersley