The richest 10% of people own more than 80% of global wealth, and the 10 richest men have six times more wealth than that of the poorest 3.1 billion people combined.
These vast inequalities in wealth reflect how society is split into two classes: the capitalist class who get their wealth through owning industries and corporations, and the working class who rely on wages or benefits to buy what is needed.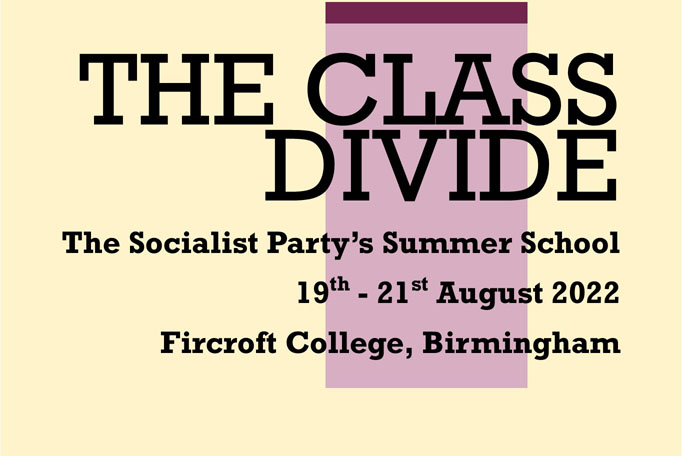 The Socialist Party's weekend of talks and discussion looks at why capitalism is divided into classes and how the antagonism between them impacts on the way we live. What is 'class consciousness' and how does it develop? To what extent is it meaningful to say that there is a middle class? What classes were there before capitalism, in previous stages of history? And what could a future classless society be like?
Full residential cost (including accommodation and meals Friday evening to Sunday afternoon) is £100; the concessionary rate is £50. Book here or send a cheque (payable to the Socialist Party of Great Britain) with your contact details to Summer School, The Socialist Party, 52 Clapham High Street, London, SW4 7UN. Day visitors are welcome, but please book by e-mail in advance.
E-mail enquiries to spgbschool@yahoo.co.uk.

---
The Class Divide and the Role of Trade Unions
Howard Moss
Historically trade unions were voluntary organisations set up by the working class to enable them to get as good a deal as possible in selling their skills and energies to employers, while at the same time not having the aim or ability to transcend the class divide they were (and are) a player in. But what about circumstances in which workers decide it is not in their interest to be part of trade unions, as many do these days? Do they lose by this? And what about 'political' trade unionism where unions manage to get themselves involved not just in trying to protect or improve the pay and working conditions of their members but instead are used as vehicles for campaigning for various reforms of capitalism or even for Trotskyist-style revolution? What should the Socialist attitude be towards such activities by trade unions?
---