Proper Gander – A Problem Not Registering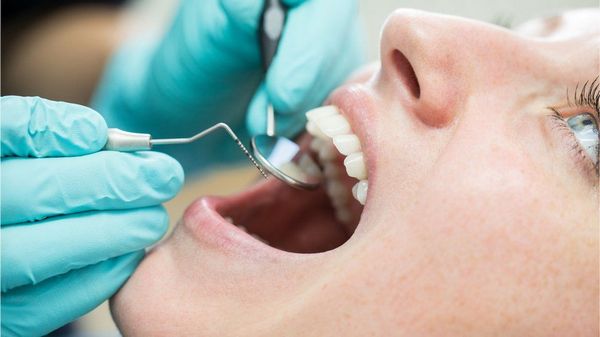 It would be nice to assume that as knowledge and technology carry on improving, so would healthcare, as more and better treatments become possible. But as we know, the National Health Service has always struggled to provide enough of what's asked of it, despite the hard work of its staff. One aspect of the NHS where it's sadly become realistic to lower our expectations is dental care. In a recent documentary on BBC News, Disappearing Dentists, presenter Dominic Hughes highlighted some of the issues.
The programme includes some distressing interviews with people who have been unable to register with a NHS dentist and unable to pay for treatment privately. One woman was left without a dentist when the practice she was registered with closed and there were no other ones taking on new NHS patients available nearby. Since then, she has lost 13 of her teeth because of receding gums for which she can't get any treatment. Another woman has resorted to making substitute dentures from mouldable plastic herself because there are no dentists she can access. A father is unable to find a practice which will accept his children, who need treatment for painful cavities and misaligned teeth.
The programme's researchers got in touch with nearly 7,000 dental practices who have contracts with the NHS. They found that in England, Wales and Northern Ireland around 90 percent of practices said that they were not registering new adult NHS patients, and 80 percent were not accepting children. A quarter of practices had waiting lists to register, with most being a year or more long. Many areas, especially much of the north of England and all of the west country, have become 'dental deserts' with virtually no chance of being able to newly register. The situation isn't quite as extreme in Scotland, where 82 percent of dentists are not accepting new NHS patients, and nearly everyone has already registered, according to the Scottish government.
The NHS manages dentistry different to other aspects of healthcare. Most dentists operate as independent contractors rather than being employed by the NHS like GPs and hospital staff. Therefore, dentists are able to treat both private patients who pay for this directly and patients registered through the NHS, which subsidises the cost. NHS patients themselves are charged between £23.80 and £282.80 for a course of treatment, with children, pregnant women, benefit claimants and some other groups having all costs covered. Only treatments which are deemed clinically necessary are available through the NHS, so cosmetic procedures are only performed privately.
The programme-makers spend a couple of days at the emergency clinic at Newcastle University's School of Dentistry. Drop-in clinics like this treat people who are in pain, without them having to be registered or charged as private patients, although there aren't enough of them to cover much of the country. Many of the people who come in and are interviewed didn't expect they would need to go there as they thought they were registered at their local practice. When they tried to make a booking for their current problem they were told that they had been taken off the register because they haven't had an appointment recently. Being in pain, they couldn't take the option of joining a long waiting list to re-register, and without other practices able to enrol them as NHS patients or the means to pay privately, they headed to the emergency clinic.
One dentist interviewed for the documentary said that the current crisis is the result of reforms to the way that dentists take on NHS work brought in during 2006. The type of contract a dentist had with the NHS changed from them being paid for each piece of work they did to having a block contract with their Primary Care Trust which pays them for a set number of 'units' of treatment each year. One given reason for the reform was that the system of charging individually for each treatment was believed to encourage more work than was necessary and discouraged preventative advice. Dentistry was already in a bad way when the contracts changed in 2006, with an ongoing shortage of dentists, especially in more economically deprived areas. The situation is even worse in 2022, as illustrated by the documentary. The dentist interviewed says that his current contract fails to meet the costs of NHS treatments because it caps the budget available for them. His income from private patients covers the gap to some extent, but this reduces his overall revenue which isn't in his economic interests. Having a maximum number of NHS treatments paid for means that the practice can't expand its NHS work. And as the population increases, more people will want to be registered, leading to rising demand which isn't being met. Alongside this longer-term trend are the more recent disruptions due to the pandemic, which are still having an impact.
The crisis in NHS dentistry provision has got to compete for attention among all the other crises going on at the moment. There's no appetite for structural change, according to Nigel Edwards, chief executive at the Nuffield Trust. He says that there's a risk of dentistry becoming a two-tier system, but this has already happened with the difference between NHS and private patients. Like everything else, dentistry is commodified, and the NHS is an inconvenient complication of this for the capitalist class. It's easy to think that NHS dentistry is being deliberately neglected by the Tories in order to promote the private sector, although it was under a Labour government that the contracts blamed for exacerbating the situation were brought in. Regardless of how it's funded, basic dental care is always going to be an awkward fit into the capitalist economic model: it's a product which requires expensive highly-skilled staff and decent equipment and also one which we don't want unless it's needed. The documentary ends by saying 'there's no quick fix for NHS dentistry', but it would be more accurate to say that there's no real fix at all within capitalism.
MIKE FOSTER
---
Next article: Book reviews – After Corbyn / Chumocracy / Ultrasocial ⮞