Proper Gander
Remoulding The Activist
Lurking as embarrassments in the TV archives are the series cancelled after a few episodes following complaints from offended and disgusted viewers, such as the 1930s Berlin-set sitcom Heil Honey I'm Home! and the disturbing Minipops. One recently made show has managed to get pulled due to negative reactions even before its first episode has aired, CBS's The Activist.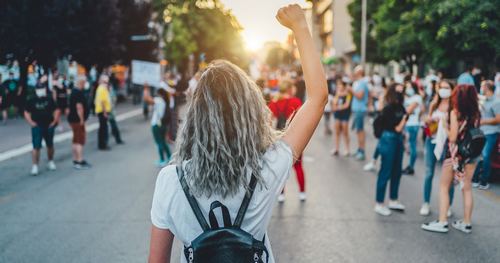 Initial publicity bragged that The Activist would be 'a first-of-its-kind competition series that will inspire real change'. Six specially selected activists campaigning for health, education and environmental issues would 'go head-to-head in challenges to promote their causes', with tasks such as 'missions, media stunts, digital campaigns and community events'. Their efforts to win each episode's challenge would be judged by singer Usher, actor Priyanka Chopra and dancer Julianne Hough, and their success would be 'measured via online engagement, social metrics, and hosts' input'. The series climax would see the activists attending the G20 summit in Italy to 'meet with world leaders in the hope of securing funding and awareness for their causes'. 'The team that receives the largest commitment is celebrated as the overall winner at the finale, which will also feature musical performances by some of the world's most passionate artists.'
The programme-makers and whichever focus groups they tested their ideas on didn't think that setting important issues against each other and turning activism into Reality TV would sound tawdry and exploitative. Yet this was the overwhelming response from critics and commentators on social media when the series was announced. Several tweets pointed out that the show was like the plot of a Black Mirror episode. One Alejandro Villegas tweeted 'How corporate America appropriates and trivialises advocacy… monetising the imagery… channelling dissent into meaninglessness' and made a comparison with the derided Pepsi advert launched during the Black Lives Matter protests which featured model Kendall Jenner healing rifts by handing a cop a can of cola. Some of those involved with The Activist joined in with the criticism by saying how its approach sought to simplify and mould the activists' work. Clover Hogan of climate change campaign group Force Of Nature withdrew her application for a part on the show when she realised that they wanted marketable activists. She said 'having been gaslit by this whole process personally, I can absolutely understand why you could be manipulated into saying yes to this type of opportunity', adding that the competitive element of the format was downplayed when she was interviewed. The backlash against the programme led to Chopra resigning from her role as a judge, while Hough said 'the judging aspect of the show missed the mark, and furthermore… I am not qualified to act as a judge'.
The series, due to air in America on CBS in late October, was produced by Global Citizen, an international education and advocacy organisation aiming for extreme poverty to be eradicated by 2030, and Live Nation, mostly known for ticket sales. When all the criticism went viral, they released statements solemnly stating that 'It has become apparent the format of the show as announced distracts from the vital work these incredible activists do in their communities every day', adding that 'global activism centres on collaboration and cooperation, not competition. We apologise to the activists, hosts, and the larger activist community – we got it wrong'. For the programme-makers to do a complete U-turn on their stance shows how out of touch with their target market they were, particularly awkward for Global Citizen, which promotes itself as an international educator and advocate. Presumably the lure of publicity and money clouded their judgement.
The programme, which has already been filmed, will now be remade as a one-off documentary, removing the competitive aspect, with the same activists who took part originally. 'We hope that by showcasing their work we will inspire more people to become more involved in addressing the world's most pressing issues. We look forward to highlighting the mission and lives of each of these incredible people' grovelled Global Citizen, CBS and Live Nation. They'll now be hoping the new version of The Activist showcases, inspires and highlights enough to rebuild any reputational loss, as they would call it.
The Activist's original format was scuppered because of how distasteful it sounds for campaign groups to be set up to compete against each other for influence, through corporate-driven media. But this is exactly how they have to function in the real world. Campaign groups have to compete for funding, hoping to convince us to support their single-issue campaign rather than any of the other countless single-issue campaigns. If they can package their message so that it's acceptable enough, without any threat of fundamental change, they can attract more mainstream exposure. They become part of the marketplace because they're only aiming to work within it and not challenge the system itself. Commodifying activism further by turning all this into a TV show weirdly makes the reality clearer. Writer Naomi Klein made the point with her sardonic tweet, 'I'm confused: Is this an advanced Marxist critique to expose how competition for money and attention pits activists against each other + undermines deep change? Or just the end of the world?'
MIKE FOSTER