2020s
>>
2021
>>
no-1401-may-2021
Obituary
Melvin Tenner
We regret to report that Melvin Tenner died in April after failing to recover from a serious health incident in November. He was 74. He joined the old Paddington Branch in 1972 after meeting a member selling the Socialist Standard outside a tube station in West London. He had previously been associated with various left-wing groups. He had been at art college but at the time was working at a university bookshop. Subsequently he set up his own mail order bookselling business, the Academic Book Club. He used to recount how on one occasion after innocently selling a collection of difficult-to-get technical books to an Iraqi he was interviewed by MI6. Maybe they mistakenly thought that his politics inclined him to support Saddam Hussein. Whatever, the Iraqis weren't pleased either as the books were old and they thought Melvin had diddled them when they compared the old pounds shillings and pence on the cover with his standard finder's fee.
In the Party he was one of the editors of the Socialist Standard in the 1980s both as a writer of carefully crafted articles and as designer. We reproduce one of the covers he designed.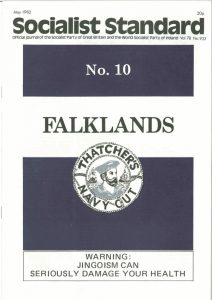 Somewhat lugubrious but with a dry wit that reflected his dexterity and intelligence, Melvin was a dedicated socialist and involved in a range of other Party activities too. These included more recently being a member of the Executive Committee, and, at the time of his death, a Party Trustee and Secretary of West London branch.
Outside the Party he was a lifelong Fulham FC supporter and previously Chair of the Fulham Supporters' Club, leading a successful campaign to raise money from fans to keep the club going. Our condolences go to his family.