Music Review: 'Thee Faction – Reading Writing Revolution'
'Reading Writing Revolution: The Tendency of the Rate of Profit to Fall'. (CD £7 inc P&P). By Thee Faction. 2015. Soviet Beret.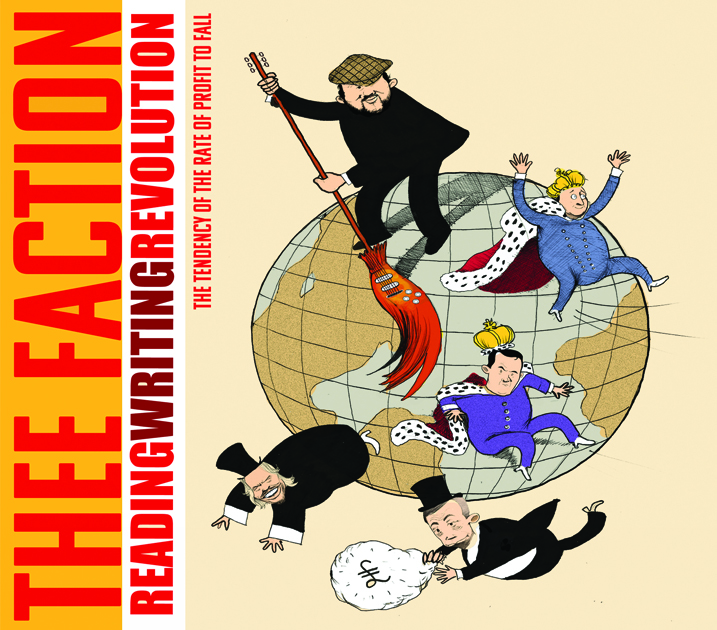 Thee Faction are a punk rock group who formed in 2010 and released their fifth album Reading Writing Revolution this year. Over the years, in Britain, political rock music has ranged from the nihilism of punks like the Sex Pistols to po-faced left-wing sometime Labour Party loyalists like Billy Bragg. It is refreshing then that Thee Faction are neither nihilist nor po-faced and have a sense of humour in their songs.
In June 1978 we wrote 'what constitutes socialist music? Even if it were desirable, few would want to listen to a Marxist liturgy let alone a rock version of "sing along with Ma(r)x".' and in April 1985 'It is difficult to compress the argument for socialism on to a single track'. Well, this album comes close, with tracks like 'The Three R's' and 'Socialism: Utopian and Scientific' among the more catchy including lyrics 'I'm loving Engels instead, output: prolific, outlook: terrific.'
They've been described as not 'protest songs' but solution songs. They seem committed and sincere, describing themselves as 'socialists first, musicians second' and 'The point of what we do is to do our bit to deliver a socialist society. The point of what we do isn't art.' This is not a gimmick borrowed for a new album but a theme consistent throughout their back catalogue. In addition, musically, their songs are good tunes and they've even had previous albums reviewed in the Daily Mirror, Daily Telegraph and played on BBC Radio.
The band members describe themselves as libertarian socialists but the extended spoken part of their song 'Equality' makes clear their fondness for early Labour propagandist G. D. H. Cole. Cole who wrote the forward to a 1930 edition of Capital, failed to grasp or deliberately misrepresented value theory and the materialist conception of history. No surprise then that a recent gig they headlined was a fundraiser for the campaign for Jeremy Corbyn, but in generously providing me with a copy to review, they wrote that 'the nine of us pull in different (socialist) directions'.
Reading Writing Revolution is worth a listen (and might make a good gift) particularly if you like punk rock music and socialist rhetoric.
DJW