2010s
>>
2018
>>
no-1362-february-2018
Exhibition Review: Savage Ink – the Cartoon & the Caricature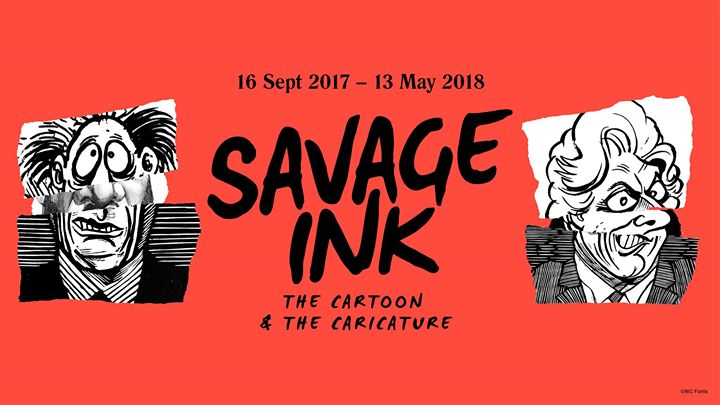 Political and satirical cartoons have been around since at least the second half of the eighteenth century. An exhibition 'Savage Ink: the Cartoon & the Caricature', on at the People's History Museum in Manchester until the middle of May, provides many examples from the work of William Hogarth down to contemporary comic books and graphic novels. A quote from former Tory minister Kenneth Baker makes the point that for a politician to be caricatured shows that they have arrived on the political scene.
A variety of cartoons are shown from over the years, from Hogarth's attacks on electoral corruption to Steve Bell's criticisms of Thatcher in his 'Maggie's Farm' series. Many cartoons have involved opposition to the political and economic establishment: a particularly powerful example from 1830 shows a wealthy absentee landlord haunted by the ghosts of his Irish tenants who had starved to death. In 1805 James Gillray depicted Pitt the Younger and Napoleon carving up the globe between them (a much-copied illustration), and in 1830 George Cruikshank showed Great Britain as a beehive, with Victoria as Queen Bee at the top and having nothing in common with the worker bees at the bottom.
But Cruikshank also had some very unpleasant views. He attacked Robert Owen, and the title of an 1819 cartoon needs no commentary: 'Universal Suffrage or the Scum Uppermost!!!'. In another example of nastiness, in 1924 the anarchist Emma Goldman visited Britain, and one cartoon shows her having been beaten up, possibly by Ramsay MacDonald, who is shown in the background.
An anonymous cartoon from 1812 is a vicious sexist depiction of women reformers at a public meeting, where a member of the crowd says, 'Come home and get dinner ready, you old baggage.' There is no reason to think that this is criticising those who opposed women's involvement in reform movements, but sometimes a cartoon can be, at best, ambiguous. For instance, a New Yorker cover from 2008 showed Obama dressed as a muslim and his wife as a fighter with a gun: did this satirise the scare tactics used against him (as its author claimed) or just reinforce prejudices?
An interesting exhibition with a range of cartoons, mostly focusing on individuals but sometimes addressing more general issues.
PB
/* Style Definitions */
table.MsoNormalTable
{mso-style-name:"Table Normal";
mso-tstyle-rowband-size:0;
mso-tstyle-colband-size:0;
mso-style-noshow:yes;
mso-style-parent:"";
mso-padding-alt:0cm 5.4pt 0cm 5.4pt;
mso-para-margin:0cm;
mso-para-margin-bottom:.0001pt;
mso-pagination:widow-orphan;
font-size:10.0pt;
font-family:"Times New Roman";
mso-ansi-language:#0400;
mso-fareast-language:#0400;
mso-bidi-language:#0400;}