2010s
>>
2017
>>
no-1350-february-2017
Obituary: Victor Vanni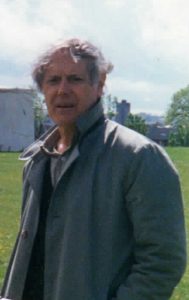 It is with sorrow that we mark the death of Vic Vanni, a Party member for more than fifty years and an unflagging stalwart of our Glasgow Branch. He was 86.
The son of Italian immigrants who settled in Glasgow and had a fish and chip shop, Vic worked all of his life as a sheet metal worker in the Clyde shipyards, where he was probably its only Guardian reader. He joined the Labour Party soon after the 1959 General Election and became extremely active on their behalf, with prospects of becoming a parliamentary candidate. In the following year, however, he fortuitously came across an SPGB outdoor meeting and set about persuading our members to support the Labour Party and the CND movement. In subsequent encounters, our arguments against such a sterile course so impressed him that he abandoned labourism and eventually joined the Socialist Party in 1963. Since that time, he devoted all of his energies to Party activity, as an outdoor speaker, lecturer, writer and branch organiser. Vic addressed public meetings throughout Britain, from Aberdeen to Bristol, Norwich to Bolton, and spoke in London's Hyde Park, Earls Court and Lincoln's Inn Fields as well as in Boston and New York when visiting American socialists. A Party candidate and agent in General and Scottish Parliament elections, he was also a Glasgow Branch delegate at fifty consecutive annual Party Conferences.
Vic was known latterly for a tendency to pour tepid to cold water on what he viewed as fanciful optimism about, or proposals for, the advancement of socialism, which made his commitment and integrity all the more admirable. The only thing wrong with our case, he insisted, is that it has too few adherents. He always made a point of speaking to new Party members or writing them letters of encouragement, as well as occasionally posting missives of gentle admonition to those of longer standing who should have known better. Where he lately bought his typewriter ribbons remains a mystery. While his life was the Party, he did have abiding enthusiasms elsewhere: his knowledge of Scottish, English and continental football was extensive (he could name most players in London teams of the mid-1950s, when he briefly lived in the capital); he became an avid devotee of speedway's Glasgow Tigers; and he was a regular cinema-goer familiar with both continental and American films, being especially interested in Hollywood and its industrial relations. A convivial, unassuming and self-disciplined man of routine (explained, perhaps in part, by his conscripted time in the army as Sergeant Vanni), it is impossible to forget him putting in his forthright two pennies' worth at Party gatherings. All members will be hard-pressed to emulate Vic's example, which is his singular legacy.
MT