1980s
>>
1988
>>
no-1006-june-1988
Film Review: Not Struck by Moonstruck
Moonstruck (Directed by Norman Jewison.)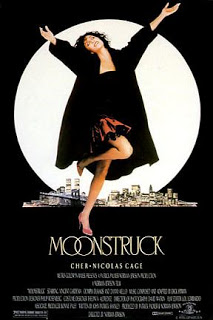 I had my doubts about Moonstruck in the first few minutes where, during the opening credits, Dean Martin started crooning Amore. He warbles the same song at various other (probably significant) points in the story, and each time he did so my doubts became more serious. After all, here was a much talked about, much hyped film whose leading lady (Cher) won an Oscar for her performance, that is, in reality little more than a variation on the sentimental love story theme of girl meets boy, they encounter obstacles to the course of true love which they overcome in the end and live happily ever after. It's true that there are a few funny one-liners like when Cher tells papa that she is going to get married and he replies "But you did that once already!". But in general, the film plays unashamedly on stereotypes of Italian Americans.
Cher plays a beautiful young widow living with her eccentric extended family: elderly grandfather and his numerous dogs with whom he enjoys more and better communication than with other members of this family; mother (in real life a relative of US presidential hopeful. Michael Dukakis) a tired, long-suffering Italian "mama"; father – a rich, philandering plumber; and various assorted aunts and uncles who appear during crucial scenes, no doubt to add to the sense of "family".
Cher gets herself engaged to a wimp of a man who she doesn't much care for (a good thing in her mother's view since love is no basis for a marriage). He leaves temporarily to visit his own dying mama in Italy. While he's away Cher starts an affair with the gormless but passionate Nicholas Cage, who plays the fiancé's estranged brother. (He lost his hand in a bread slicer. lost "his girl" at the same time and can't forgive his brother on whom he blames everything.) But true amore conquers all, it would seem. Cher gets to keep the one-handed baker without upsetting the wimpish brother who doesn't want to marry her now anyway. His mama back in Italy has made a miraculous recovery and he believes that she will die if he marries (they're all a jolly superstitious lot in this film). The two brothers are reconciled; the rift between Cher's mama and papa caused by his womanising ways is also miraculously healed across the breakfast table; all the loose ends of all the sub-plots are tied up, so they all look set to live happily ever after as, mercifully for the last time, Dean Martin tells us "That's amore".
Janie Percy-Smith