The Problem of Racism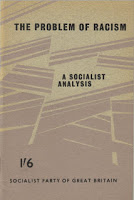 The riots at Notting Hill and in South Africa have once again sparked off discussion on the racial question. The Labour Party Executive (having supported and maintained the conditions which produced the riots in West London) is now running an anti-racialist campaign.
A great opportunity to debunk this and all the other rubbish about racism is readily to hand in the SPGB pamphlet The Problem of Racism. In easily understood language the whole question of "race" under capitalism is explained. Although published ten years ago, like so many Socialist statements it was prophetic.
For instance: "By trying to divide the Africans through tribalism, by building up vast internal security forces and by repressive legislation the Nationalists may ward off the inevitable for a time. Sooner or later Apartheid will go — capitalism must triumph in South Africa, peacefully or violently".
Buy it, read it, and then go out and do battle with the Philistines.
THE PROBLEM OF RACISM PAMPHLET IS AVAILABLE FROM HEAD OFFICE PRICE 13 p. inc. POSTAGE.