1960s
>>
1969
>>
no-775-march-1969
Book Review: The Fenians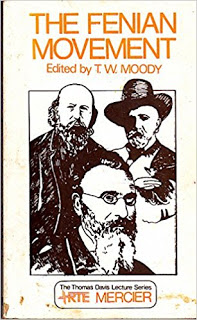 The Fenian Movement, Edited by T. W. Moody. Mercier Press, 10s. 6d.
This small, relatively expensive paperback consists of eight essays on the Fenian movement and its leaders. The essays, which are written by prominent historians, concentrate more on the factual events during the years of Fenianism than on its, admittedly diverse, economic ideals.
Fenianism had its origins in the abortive Rising of 1848. Ireland was, at that time, in the grip of a famine, and Landlords were expropriating the food from the peasants so that rents could be realised even if the peasants had not enough left to feed themselves. Some members of the 1848 Rising lived in exile in France. One of them James Stephens, spent some time among Parisian communist and revolutionary circles. and returned some years later to Ireland, a self-professed revolutionary. He initiated a new secret organisation which, until 1921, was a thorn in the side of the British government. Fenianism, though purely a political movement with an independent Ireland as its ideal, strongly influenced the inception of other nationalist movements, the most notable of which were the Gaelic League and the Land League and also the Irish literary revival, led by Yeats.
The Fenian leaders planned an insurrection for 1865 but postponed it until 1867. The British forces easily suppressed this outbreak and the most notable feature of Rising were the brilliant speeches delivered from the dock by its leaders at the trials which ensued. After that the Fenians pursued a policy of sporadic outbreaks of violence and stood opposed to the constitutional methods of Parnell. In 1916 another insurrection was squashed but the executions which followed antagonised the people; the result was a stronger Republican army which engaged in intense guerrilla warfare with the British forces from 1919 until the Treaty in 1921.
The Fenians faced strong opposition from the Catholic Church and were often accused of being communist —mainly because of the strong working-class element within its ranks. It was at all times a minority action movement and much of its finance came from Irish-Americans. Its leaders advocated the "rights of the people" to determine their own political and economic affairs. Some even advocated "rights of labour" and "more equitable distribution of wealth". But being a minority action movement its role could only have been the establishing of "the rights" of representatives of Irish capitalists to manage their own interests. This is exactly what happened. It is now nearly fifty years since Ireland became independent of British rule but still world capitalism draws off Irish surplus labour, while in Ireland wages are ridiculously low. The Church, which once opposed the Fenians, now, paradoxically, venerates the memory of its leaders. The sad thing is that it was Irish workers who wasted so much life and energy in acquiring a separate parliament which could not possibly manage capitalism in their interests.
Patrick Garvey