Book Review: Grass Roots
 Constituency Labour Parties in Britain by Edward G. Janosik (Pall Mall Press, 45s.)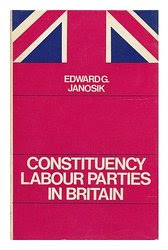 Edward Janosik has produced here a study of the organisational and political nature of constituency Labour Parties. The blurb on the dust jacket claims that the book contains "a body of reliable data from which sound generalisations could be made". Unfortunately, the author, an American who spent a year in Britain, has little or no experience of his subject and his data has been acquired by interviewing what he calls  "key leaders" of thirty six CLPs.
Before joining the Socialist Party of Great Britain 1 was a CLP secretary—a "key leader"—for some years and my own impressions of the Labour Patty are very different from those gained second hand by Janosik. He must realty be naive if he thinks that the party machine (Transport House) isn't all that powerful in the selection of parliamentary candidates. True, there is a procedure laid down which appears to give the "grass roots" a great deal of independence in the matter, but the machine, through its local paid officials, can and often does see that the dice is loaded in favour of nominees acceptable to it by turning a blind eye to blatant irregularities in the delegations to selection conferences.
Also, Janosik's claim that there is little evidence of organised factionalism in the CLP's is. to anyone who has ever been active in the Labour Party, sheer nonsense. Before such events as the election of office-bearers, the choosing and instruction of delegates to national and local conferences, the selection of parliamentary and municipal candidates, each faction will normally meet in conclave to decide a course of action against the others.
Janosik does admit that his studies were carried out at a time when a general election was pending. Such an event is always a great unifier as CLP's are basically an electoral machine whose function is to secure the return of candidates representing a very broad viewpoint of how British capitalism should be run. Not that the "unity" ever lasts very long. After the votes have been counted the various factions, left and right, will cheer their heads off together if Labour wins but it is only a short while before the back-stabbing begins again. If Labour loses then, of course, it commences right away.
The book does reveal, in passing, some of the skeletons in the Labour cupboard. For instance, the fact that candidates are sometimes chosen with an eye to the religious prejudices of the electorate. Also dealt with is the degrading "pulling out" of the Labour vote on election day. This consists of the party activists plaguing everyone suspected of Labour sympathies to come out and vote. Fleets of cars are provided for this spectacle and no wonder, for if the average Labour voter were left to vote of his or her own accord then there would be a lot less Labour MPs in Parliament.
The myth that the CLP's are bastions of militancy against the reactionary leadership also takes a knock. Actually, the vast majority of Labour Party are simply apolitical and are only concerned with humdrum fund-raising and social activities.
Janosik's book cannot fail to impress whoever is obsessed with discovering the facts relating to the average age and occupational, religious, educational background of CLP leaders and there are abundant tables dealing with all this and more. Doubtless, the Robert McKenzie, Abrams and Rose crowd will be fascinated, but really, the author has failed to get under the skin of his subject and to see it for the corrupt, undemocratic and anti-socialist organisation that it is.
Perhaps we shouldn't blame him too much for that After all, thousands who have spent a lifetime in its ranks still haven't seen through it either.
Vic Vanni