2010s
>>
2014
>>
no-1317-may-2014
Mixed Media: The British Black Panther Movement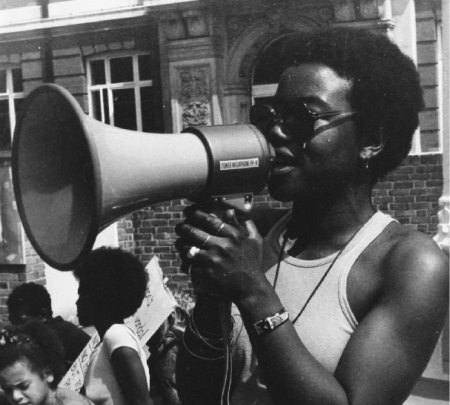 In October 2013 during Black History month, the Photofusion Gallery on Electric Lane in Brixton, South London, put on a photographic exhibition about the British Black Panther Movement. The exhibition was an oral history and photography project with archive photographs of protests, debates, parties, and key members by Neil Kenlock, official photographer of the British Black Panther Movement.
The British Black Panther Movement was active in the early 1970s, had several branches but Brixton in South London was the centre. Its key members were Barbara Beese, Kenrick Goppy, Darcus Howe, Farukh Dhondy, Linton Kwesi Johnson, Altheia Jones-LeCointe, Danny Da Costa, Liz Obi, Leila Howe, Olive Morris and Neil Kenlock. It had a HQ at 38 Shakespeare Road, off Railton Road, which was bought for them by art critic John Berger. The British Black Panthers were inspired by Black Power in the USA although they were different from the American Black Panthers: 'they were a Party seeking political power, the American Constitution allows people to carry guns, so they were policing the Police' (Kenlock).
Malcolm X's speech at the LSE in 1965, Stokeley Carmichael's appearance at the 'New Left' event Dialectics of Liberation Congress in 1967, and Black Panther Angela Davis's visit to London inspired the movement. If They Come in the Morning: Voices of Resistance (1971) by Angela Davis was very influential along with other Black literature such as The Black Jacobins (1938) by CLR James, George Jackson's Soledad Brother: The Prison Letters (1970) and The Souls of Black Folk (1903) by WE Du Bois. Reggae musician Linton Kwesi Johnson said: 'Joining the Black Panthers was a life-changer for me because for the first time I discovered Black Literature.'
The exhibition includes material on the Black People's Alliance demonstration against Racialism during the Commonwealth Premier's Conference in January 1969, the National Conference on the Rights of Black People in Britain in May 1971, and the fire-bombing of the Unity Centre at 74 Railton Road in March 1973. There is a focus on the trial at the Old Bailey of the Mangrove 9 in October 1971. The Mangrove was a West Indian restaurant in Notting Hill that was repeatedly raided by the Metropolitan Police, and at a subsequent protest march 9 people including Jones-LeCointe, Beese and Darcus Howe were arrested.
A significant figure in the British Black Panther Movement was Olive Morris (1952-79), born in Jamaica who was a feminist, black nationalist, campaigner against private property rights and for the rights of squatters, a founding member of the Organisation of Women of African and Asian Descent, and co-founder of the Brixton Black Women's Group. In 1972, 121 Railton Road was squatted by Olive Morris and Liz Obi and was later home to Black organisations, feminist and anarchist groups which were only evicted by Lambeth Council in 1999.
In 1973, the Brixton Black Women's Group was set up at 65 Railton Road by Morris and Obi, though it later moved to Stockwell Green. The Lambeth Women's Project was established in 1979 at 166a Stockwell Road and would be evicted by Lambeth Council in November 2012. In 1986 Lambeth Council named one of its buildings on Brixton Hill after Olive Morris. The Lambeth Council leader at the time was Labour Councillor Linda Bellos, a black radical feminist. It is with grim irony today that Lambeth 'New Labour' Council operates its housing department and benefits from Olive Morris House, the same Council notorious for evicting 'squatters' and tenants from long-life housing and those who cannot afford to pay the 'bedroom tax.' This is in sharp contrast to Linda Bellos who said in 2006: 'I think class remains a key element in people's life chances which is why I remain a socialist.'
The British Black Panther Movement was a reformist strategy in capitalism, as confirmed by the following statement: 'I seriously believe that the methods we learnt, the ideology we imbibed and then the campaigns that we participated in gave rise to legislation which outlawed discrimination in housing and employment. We couldn't make a Marxist-Leninist revolution but we did establish the right of blacks to become proper citizens of Britain' (Dhondy).
Today in capitalism 'Black youth unemployment nationally is now pushing 65 percent and rising, in some local wards this rises as high as 75-85 percent' (Lee Jasper 8 July 2013). Today there are a disproportionate number of deaths of black men in police custody, a disproportionate number of black men in the prison population, and a disproportionate number of black people subject to stop and search by the police.
Black American novelist Alice Walker said 'The most common way people give up their power is by thinking they don't have any.' Socialists agree with this and when the united black and white working class recognise their own immense potential power they can transform society through conscious unity by abolishing capitalism. Capitalism promotes and aggravates conflicts such as racism. Socialism will be a world free of social conflict in which human beings live and work in unity without distinction of race.
STEVE CLAYTON